Euca Essentials Kleening Kit
Euca Essentials Kleening Kit
Special Price$55.00Regular Price$58.00
-5 %
Household cleaning is easier, quicker, and more effective when you have the right cleaning kit.
Delivery & Return
Essentials Kleening Kit
Household cleaning is easier, quicker, and more effective when you have the right cleaning kit.
With the Euca Essentials Kleening Kit you get the tools and the products you can depend on.
This well-organised cleaning kit only contains a limited number of items, but yet you have everything you need to clean your home in a satisfactory manner.
We should point out this kit does not contain a vacuum cleaner, broom/dustpan, or mop, which are all essential tools in home cleaning, however, they could not fit in the tub.
So, what is in the Euca Essentials Kleening Kit that makes it the perfect cleaning kit for your home? Read on to find out!
Euca Spray It Wipe It – Surface Spray
Kills 99.9% of germs, perfect for kitchen benches, cupboards, tables, chairs, appliances, bathrooms, sickrooms, children's toys, café's, automotive interiors, phones, computer screens, keyboards, all plastics plus will remove stains from fabric furniture and carpets.
Euca Multi – What doesn't Multi clean?
Possibly the best every day, every surface cleaner you can have. Biodegradable, non flammable, made from Citrus & Eucalyptus so no harsh chemicals. Designed to remove all grease and fats, perfect for ovens, cooking pans, BBQ's and shower screens. Safe on bench tops and upholstery and has a non-slip finish.
Euca Glass – Non streak – Anti static formula
Developed to be used on all highly polished surfaces. Glass makes life simple & stress free being quick drying, leaving no residue and even repels dust. Use on all glass, windows, mirrors, chrome, chairs, tiles, showers, basins, taps, computer screens & more. Does not contain ammonia or any bleaching agents.
Euca Universal – With added natural Peppermint oil
Remove the toughest of grime & build up without scratching, guaranteed! Easy to use, this unique multipurpose cream based cleaner polish makes anything look like new again, plus leaves a protective film. Great for cleaning ovens and black glass cooktops, shower screens, tiles, laminate, stone, sinks, taps, cutlery, silver, chrome and more.
Euca Microfibre cloth
Sabco Scrub and Wipe Absorb Sponge
Sabco Universal Brush
Made for those hard to reach areas.
Handy Bucket with Handle
Use in the garden, pet food storage, cleaning duties & more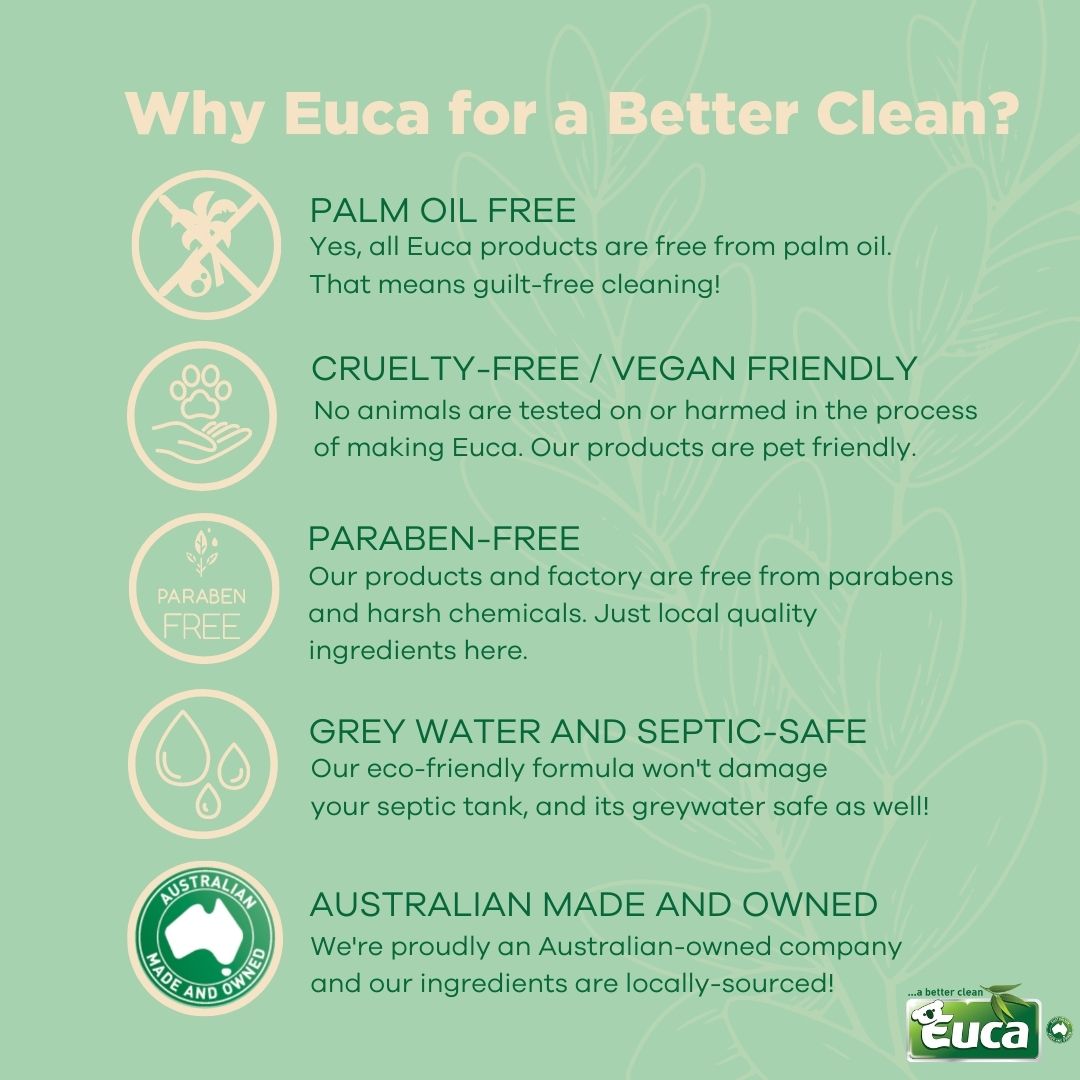 More Information

| | |
| --- | --- |
| Double Points | double points |
| Size | 1.5kg |
| Short Description | Household cleaning is easier, quicker, and more effective when you have the right cleaning kit. |