EUCA Laundry Liquid Lavender -1.5Lt
EUCA Laundry Liquid Lavender -1.5Lt
A fast-acting Laundry Liquid Detergent made in Melbourne!
Delivery & Return
Here at Euca, we may use Eucalyptus in most of our products but we are also aware of the great alternatives in essential oils that not only perform as well as Eucalyptus but also offer a distinctive change in your washing fragrance.
Introducing our Euca Laundry Liquid with Lavender!
A fast-acting Laundry Liquid Detergent made right here in Melbourne! Made to remove stubborn soils and stains from fabrics yet still gentle enough for all your normal washing.
Euca Laundry Liquid Detergent is perfect for allergy sufferers, sensitive skin and the environment. It's not a cure on its own but when used with other less intrusive products around the home it can help keep those issues at bay.
The blend is a true premium concentrate meaning you use less and save money! Another major benefit is Euca's ability to clean and protect your washing machine at the same time you use it, making it smell fresh and last longer.
100% soluble.
Ideal for Hot and Cold water.
Suitable for Front and Top Loading machines.
Suitable for bio, septic and greywater systems.
Sodium and Phosphate free.
Perfect for soaking.
Fast acting premium concentrate.
Low allergenic.
Perfume free.
Directions:
Front Loader:
Light Wash – 20ml
Medium Wash – 30ml
Heavy Wash – 40ml
Top Loader:
Light Wash – 30ml
Medium Wash – 40ml
Heavy Wash – 50ml
Ingredients
Coconut Di Ethanolamide, Eucalyptus Oil, Alkylbenzene Sulphonic Acid, Xylene Sulphonate, NL-8, Preservative, Water.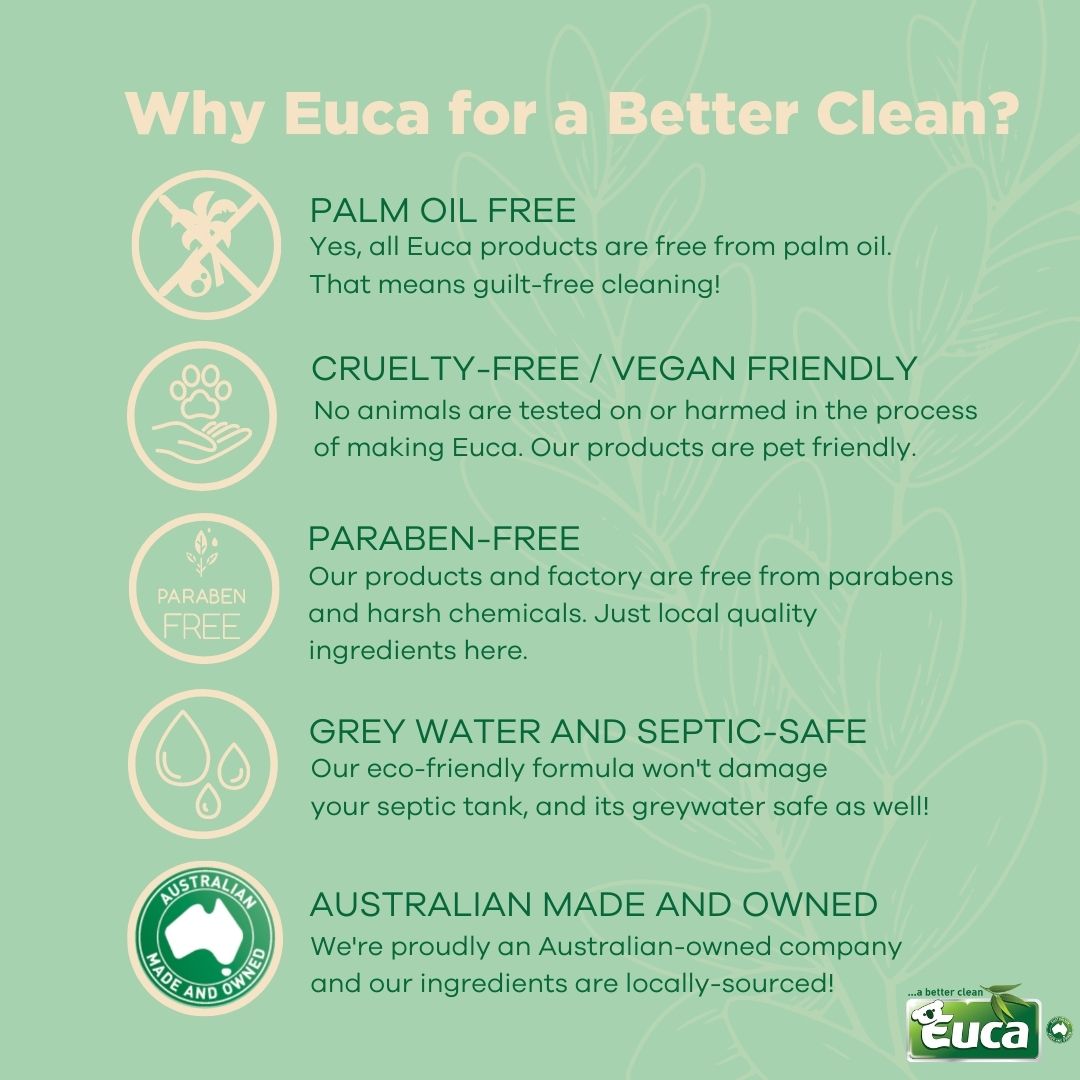 More Information

| | |
| --- | --- |
| Size | 1.5lt Bottle with measure cap [Free Shipping Offer * T&C] |
| Short Description | A fast-acting Laundry Liquid Detergent made in Melbourne! |