Euca Premium Laundry Powder 2Kg
Euca Premium Laundry Powder 2Kg
Delivery & Return
FREE SHIPPING OFFER:
This offer is not eligible with any other promotions or specials.
Can only be used ONCE per customer.
Can only be redeemed on ONE product offered in the promotion.
NOTE: You will NOT be able to purchase two or more products from this promotion and receive free shipping.
Euca Eucalyptus Premium Laundry Powder Concentrate
Available in a handy 10pk travel sachets, 1kg, 2kg, 4kg, 8kg Eco refill Box, 10kg tub, 20kg drum and a new 4Kg Eco Box Euca Laundry Powder now with two essential oils, in the most ecological packaging we currently have. Euca is well renowned for using Eucalyptus in nearly all Euca products. That's where Euca comes from, short for Eucalyptus. The team at Euca are also aware that there are some great alternatives in essential oils that not only perform as well as Eucalyptus, but offer a unique change in fragrance for those that do not prefer Eucalyptus. Tested, and tested again to make sure all the key points of the original Eucalyptus Euca Laundry powder is met or surpassed. Exceptional cleaning, 100% soluble, greywater and septic system safe, ecologically friendly, contains no nasties to upset allergy sufferers and as always will clean and look after your washing machine. Still exceptionally concentrated so you will use less, which makes Euca such an economical value for money Laundry Product like no other. Euca really saves you money.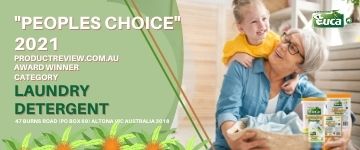 Try our new Lemon Myrtle variant – learn more here.
Made with 100% Pure Australian Eucalyptus
A Premium Concentrate – so you will use less
Removes stubborn soils & stains
Ideal in Hot or Cold water washing
H.E. Washing Machine Safe
Low allergenic so it is kind on sensitive skin
Low in Sodium and phosphate
Top and Front loading machines
Suitable for septic, bio and greywater systems
Euca actually cleans and protects the inside of your machine, so it lasts longer and smells fresh as well
No animals are ever harmed in the process of making Euca – we Love all animals big and small. We do not use any palm oil in our products and our products and factory are paraben-free.
Q: How much Euca should I use?
A: Euca is a pure concentrate – so use less, save money!
Laundry Powder
Front Loader: Approx half a scoop (20gms)
Top Loader: Approx one scoop (40gms)
Hand Wash: Approx half a scoop (20gms) mixed with warm water before immersing garment.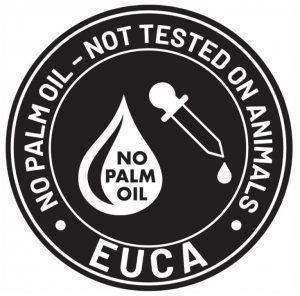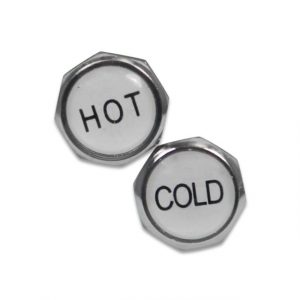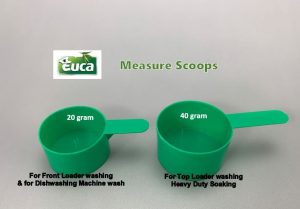 _____________________________________________________________________________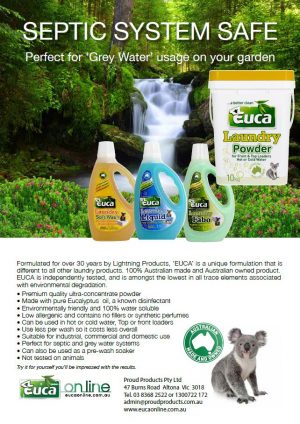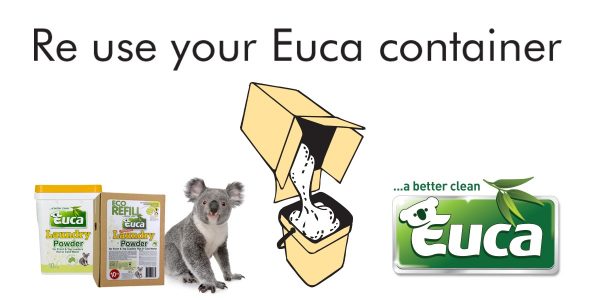 More infomation; Washing the clothes and workwear is one of those tasks that just has to happen. We cannot go through life not cleaning what we wear. The main issue is that most consumers don't fully understand the products they are currently using and what affect these products are having on them, their washing machines and the environment around them. EUCA Laundry Products, created and manufactured in Australia to an unchanged key set of principles for over 40 years, uses natural Australian eucalyptus in its formulation. It does not have any added perfumes, making it the perfect environmental cleaner and disinfectant. This is the basis of why Euca is spoken so well of within the circles of those users that suffer allergies and skin problems. It's not a cure on its own by all means but used with other less intrusive products in the home it will help in keeping all those issues at bay. The blend is a true concentrate so you use less per measure, so it lasts longer resulting in a very cost effective result compared to other leading brands. It's also an adaptable product, being 100% soluble and able to be used in hot or cold water and in top or front loaders. If you are living in the remote or country areas of Australia and rely on a septic system than Euca is the washing product you need to not upset the balance of the microorganisms that make a septic system work efficiently. Similarly within built up and remote areas, grey water usage has become a necessity and a major environmental change to reduce the waste of clean drinking water. The problem with other cleaners is they have a high phosphate level and added fillers that are harmful to grass and other plants. The end result can be that the grey water you are using could actually be harmful to the environment around you. Euca on the other hand is made with minimal phosphate to a standard that will not affect living plants, and without any fillers so the grey water usage after having Euca in your wash is not detrimental and actually beneficial to your lawn and garden. Based on all this, one major odd benefit is Euca's ability to clean and protect your washing machine at the same time you use it. Standard washing powders have added fillers that do not dissolve and sit in the bottom of your machine and pipes eventually building up, hardening, corroding and clogging the working parts of the washer. These additives destroy metal working parts, so over time mechanical failure will happen. Ingredients: Sodium Carbonate, Ethoxylated Alcohol Nonionic, Eucalyptus Oil, Citric Acid, Sodium Tripolyphosphate, Disodium Trioxosilicate, Sodium Alkylbenzene Sulphonate
More Information

| | |
| --- | --- |
| Double Points | Double Points! |
| Size | 2Kg [Free Shipping Offer *] |