Heavy Duty Hand Cleaner - Eucalyptus
Heavy Duty Hand Cleaner - Eucalyptus
$7.92 - $258.50
Now with added Phenoxyethanol, a known effective Bacteriacide
Delivery & Return
Euca Handi Hand Cleaner .... Tough on dirty Hands
Now with added Phenoxyethanol, a known effective Bacteriacide
A New Generation Heavy duty hand cleaner
Contains natural Australian Eucalyptus oil
Eucalyptus Cleans and; Deodorises skin
With added Pumice which is all natural and friendly to our waterways
Contains no harsh petroleum solvents
Effective on grease, oils, heavy grime and difficult to remove soils.
Also removes paint, silicone and printers Ink plus more
Can be used in pump packs or with hand pumps
Perfect for all industrial and mechanical work
Great around the home, garden and for work
Can be used to clean hand basins and other hard surfaces
Suitable for septic, bio and greywater systems. Also safe to use in modern sewage treatment systems.
More information;
Hand cleaners have come a long way from the solvent based types of old, and now a new generation of Hand Cleaners are available from Euca made with the natural cleaning powers of Eucalyptus plus the natural grit of pumice.
These hand cleaners have been formulated to meet the need for a more environmentally friendly product that is still heavy duty, but cleans and moisturises while being kinder to hands and our waterways.
Euca Handi Hand Cleaner is designed to remove the following types of soils; Heavy duty Industrial, grease, oil, glue, carbon, rubber, silicone, paint, dyes, inks, gardening soil, oils and more.
It's that versatile they can also be used as a great hard surface cleaner in toilets, laundries, hand basins and taps to remove hard to eliminate stain marks and water level smears, mould and mildew.
Available in a range of sizes to suit your needs, all with their own heavy duty pump to dispense with. From the stylish medicine bottle 500ml look, through to 2lt and 4lt home and workshop sizes, followed by the commercial mechanic and industrial sizes of 10lt and 20lt. (Contact us if you need a larger commercial size like 20lt)
Disclaimer:
- Euca does not make any claim that our products specifically eliminate the current worldwide pandemic problem, but our articles and blogs do outline the best process for the removal of germs through thorough cleaning as well as disinfecting.
- Our Disinfectants and sanitiser have been independently tested to achieve the required elimination rate needed to be a superior product in the Australian market. Feel free to ask us for these reports.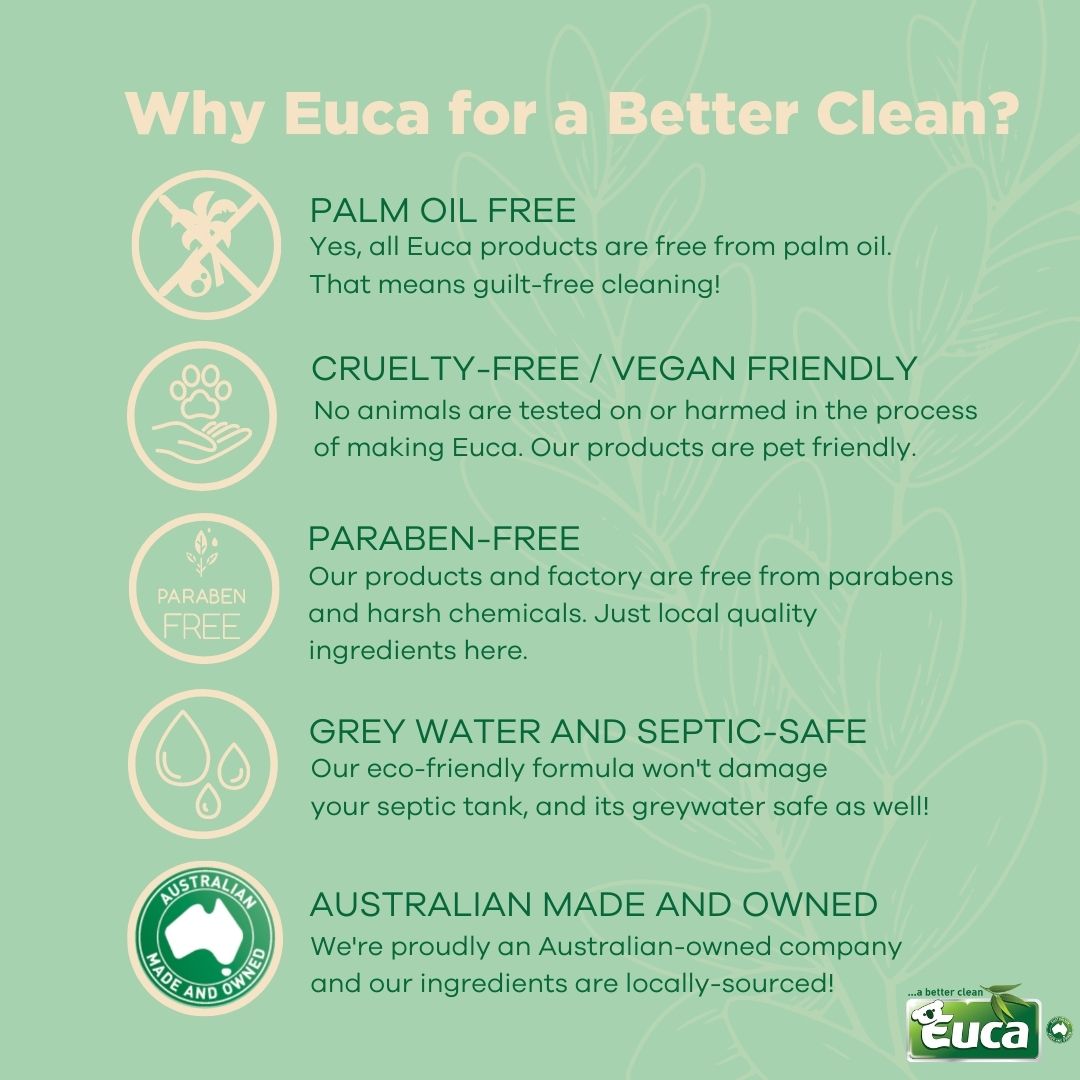 More Information

| | |
| --- | --- |
| Short Description | Now with added Phenoxyethanol, a known effective Bacteriacide |