Multi Ready To Use - 15LT BULK PACK + FREE FOREVER SPRAYER
Multi Ready To Use - 15LT BULK PACK + FREE FOREVER SPRAYER
15LT BULK PACK + FREE FOREVER SPRAYER
Delivery & Return

15lt Eco box + FREE Bonus "Forever" Trigger Sprayer - STOP single use plastics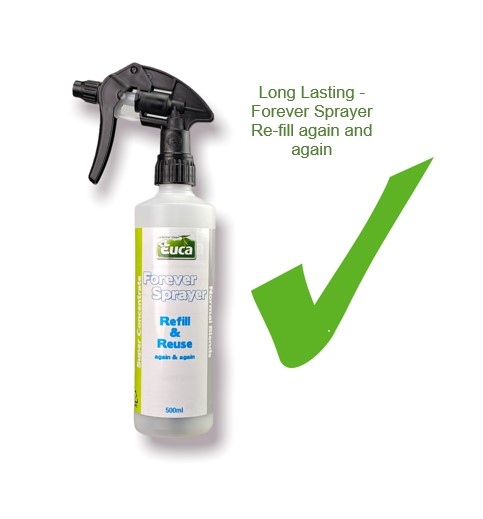 Euca Multi (15lt wine cask style) is a premixed, ready to use (RTU) and powerful multipurpose cleaner.
Multi is a new generation of environmentally friendly, natural, safer cleaning products – that really cuts through grease and grime.
The real questions is – what doesn't Multi clean?
This multipurpose cleaner can be used in all rooms of the house or workshop
Dries leaving a non-slip surface
Bio degradable, non-flammable and non-caustic so it is the perfect BBQ cleaner and safe to use on and in the oven
Extremely effective in dissolving all kinds of soils, carbon, oils and grease.
Enjoy the natural cleaning power of Australian citrus & eucalyptus oils
Made without any nasty chemicals like ammonia or chlorides
Will not damage or rust alloys, rubber or plastics
Multi Is possibly the best everyday cleaner you can have.
Made from Citrus & Eucalyptus, so it does not contain the harsh chemicals and vapours that affect breathing and your skin.
Multi will devour grease and grime and can be used to clean almost anything, from walls, benches, floors, windows, cement, stone, car interiors, laundry areas, basins, taps, cupboard doors, ovens (inside and outside), cook tops and exhaust hoods & filters.
Bio Degradable & Non-caustic so will not affect alloys, rubber, plastic and fabrics and leaves a non-slip finish.
Can be used around food products.
Can be added to washing up water in very small amounts to help remove grease off pots and pans.
its very effective even when further diluted further.
Create a healthier home for yourself and family with Multi .
No animals are ever harmed when making Euca – we love all animals.
Multi Ingredients:
Made with: water, disodium trioxosilicate, sodium alkane sulphonate, ethoxylated alcohol (nonionic), d-limonene, eucalyptus oil and Red Food colouring.
Read more information on Multi – a powerful Multipurpose Cleaner:
Multi is possibly the best everyday cleaner you can have on hand in your home. Made from citrus and eucalyptus – it does not contain the harsh chemicals and vapours that many other cleaners do, (that affect your breathing and your skin). It's a safe but powerful multipurpose cleaner. Euca Multi will devour grease and grime and can be used to clean almost anything, from walls, benches, floors, windows, cement, stone, car interiors, laundry areas, basins, taps, cupboard doors and inside cupboards, ovens (inside and outside), cook tops and exhaust hoods and filters. As it is non-caustic – it will not affect alloys, rubber, plastic and fabrics, and leaves a non-slip finish. As it can be used around food products and gunk and grime comes off quickly – it's the ideal natural BBQ cleaner and degreaser. Or when you are washing up after the Sunday roast and the grill has baked on grease, simply add some Euca Multi to the sink and let soak for a short while.
A breakdown of Multi is a Multipurpose Cleaner:
Note: each single component of Multi – powerful multipurpose cleaner, on its own, can show some concerns from consumers, if they read the information on each singular component on its own or as written on a SDS sheet. This can also be the same for most bulk raw materials used in the home and even in cooking as a lot of food grade base chemicals are not seen in a good light on their own. Generally, consumers google a singular name and then read these bulk singular information notes or the safety data sheets (SDS). This is where its not understood what an SDS is for and the need for warnings found in an SDS relates only to bulk handling and storage of an item / liquid / chemical. What needs to be taken into account is the small percentage actually used of each or any of these ingredients in a chemical formulation. The create quite a different structure and the mix makes a different reaction that then changes their composition in the blending of each singular chemical.
Once blended, Multi is ready to use is totally nonhazardous. Tuff Concentrate has a higher percentage of the base raw materials so is deemed hazardous base on that. See components below and this will answer those questions. But remember it's the formula and mix that changes all the individual properties.
Multi has been AQIS approved for the cleaning of the meat export areas (obviously in diluted form)
The History of Multi ( Previously Tuff) a Multipurpose Cleaner
Multi was Designed originally as a "Quick break" cleaner degreaser for use in workshop grease traps. It is made to release the grease from the water then separate the grease for easy capture and removal from the environment.
Detailed Ingredients:
Disodium Trioxosilicate; Is an etching chemical containing organic acid, originally used for large areas of equipment. It can be used as a scrubbing compound, applying it directly to an area and rinsing off, or as a cleaning solution, when an object can be left for a time in a dilution. Dilution typically water. May be used for stubborn stain removal.
(added to Multi to control the relationship of the Alcohol, eucalyptus and Citrus fluids. Is a good cleaner on its own but works wonders when blended)
Sodium Alkane Sulphonate; Is a colourless viscos liquid that is water-soluble and can form soap bubbles. UIsed in detergents, dish washing liquids, shower gels, shampoos, hair conditioners, fabric softener, toothpaste or moisturising products.
(Foaming additive and structure builder to keep formula together)
Ethoxylated Alcohol (nonionic); Such alcohols are obtained by the hydrogenation of fatty acids from seed oils. They are not known to be mutagenic, carcinogenic or skin sensitive, nor cause reproductive or developmental effects, so very safe for humans and the environment. They are usually released down the drain, where they may be adsorbed into solids and biodegrade through anaerobic processes and anaerobic processes or be taken up by plants and animals.
(biodegradable Grease remover)
D-Limonene takes its name from the peel of the lemon. It's principal industrial source is citrus fruit. It is also known as dipentene and is obtained through two primary methods, 1. centrifugal separation or 2, steam distillation. D-Limonene is a known common dietary supplement, fragrance ingredient for cosmetics products, used in food manufacturing, medicines, fragrance in perfumery, aftershave lotions, bath products, botanical insecticide, organic herbicide and in hand cleansers due to its ability to dissolve oils. D-Limonene is also used as a solvent for cleaning purposes, such as the removal of oil from machine parts and as a paint stripper.
(powerful cleaner / degreaser)
Australian Eucalyptus Oil; is the generic name for distilled oil from the leaf of Eucalyptus, native to Australia and cultivated worldwide. Eucalyptus oil has a history of wide application, as a pharmaceutical, antiseptic, repellent, flavouring, fragrance and industrial uses. The leaves of selected Eucalyptus species are steam distilled to extract eucalyptus oil. Research shows that cineole-based eucalyptus oil prevents the separation problems with ethanol and alcohol blends. Also used in mining to separate sulphide minerals and grease via flotation.
(Strong cleaner and grease remover with antiseptic properties)
Red Food grade colouring; or colour additive, is any dye, pigment or substance that imparts colour when it is added to food, liquids or drinks. Food colouring is used both in commercial food production and in domestic cooking. Food colorants are also used in a variety of non-food applications including cosmetics, pharmaceuticals, home craft projects, and medical devices. While naturally derived colours are not required to be certified by a number of regulatory bodies throughout the world (including the U.S. FDA), they still need to be approved for use in those countries. Food colourings are tested for safety by various bodies around the world
(This gives Multi , the powerful multipurpose cleaner its colour , otherwise it is actually clear (see Euca pre-wash spray for more information on natural colour).
Disclaimer:
– Euca does not make any claim that our products specifically eliminate the current worldwide pandemic problem, but our articles and blogs do outline the best process for the removal of germs through thorough cleaning as well as disinfecting.
– Our Disinfectants and sanitiser have been independently tested to achieve the required elimination rate needed to be a superior product in the Australian market. Feel free to ask us for these reports.
More Information

| | |
| --- | --- |
| Double Points | double points |
| Size | 15lt Eco Refill bag in box |
| Short Description | 15LT BULK PACK + FREE FOREVER SPRAYER |