15lt Eco box + FREE Bonus "Forever" Trigger Sprayer - STOP single use plastics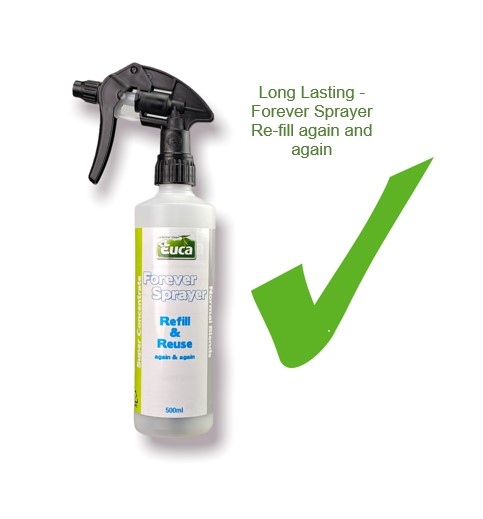 Euca Smell Expell – neutraliser Deodoriser disinfectant cleaner
NEW Blend with added Natural Eucalyptus oils.
Truly unique cleaner, odour eliminator, disinfectant and deodorant all in one
100% Australian Made and owned
Unique environmental deodoriser absorbs nasty odours
Powerful elimination of a variety of malodorous
commercial grade cleaner and disinfectant
Concentrated formula non-flammable, non-toxic
Fresh fragrance from BP Grade Eucalyptus natural oils
Non-flammable and Does not contain any bleach, caustics or ammonia
Safe on all surfaces and ideal for food preparation areas
Won't harm fabrics, glass or plastics
Use in air conditioning ducts, Rubbish bins and drains
Perfect to use in the Kitchen, laundry, bathroom, toilets and sick rooms
Use for those pet mishaps in animal enclosures​
Removes the smelliest odours
Not tested on animals – does not contain palm oils
Disclaimer:
– Euca does not make any claim that our products specifically eliminate the current worldwide pandemic problem, but our articles and blogs do outline the best process for the removal of germs through thorough cleaning as well as disinfecting.
– Our Disinfectants and sanitiser have been independently tested to achieve the required elimination rate needed to be a superior product in the Australian market. Feel free to ask us for these reports.