Sunscreen SPF 50+ - 500ml
Sunscreen SPF 50+ - 500ml
fragrance free and suitable for use on both your face and body
Delivery & Return
Auscreen Sunscreen is 50+ SPF - Very High Protection
This sunscreen is fragrance free, and suitable for use on both your face and body. It's non irritating formula is perfect for those with sensitive skin.
Euca supports and helps celebrate fellow Australian made products, so when we decided to add a sunscreen to our range, we went for the best locally made sunscreen we could find. Australia has one of the highest rates of skin cancer in the world. According to Cancer Council statistics, two in three Australians will be diagnosed with skin cancer by the age of 70. Anyone over the age of 6 months should use sunscreen on a daily basis. Even those who work indoors are exposed to ultraviolet radiation for brief periods throughout the day. Note: Children under 6 months of age should not be exposed to the sun. Their skin is highly sensitive to the chemicals in sunscreen as well as to the sun's rays.
Auscreen is a pure 50+ SPF sunscreen made by Ross Cosmetics here in Melbourne. You may have not heard the name before, but you probably have used their products as they make for a number of different private labels and have been doing this for over 20years. We think they make the best in the country; we hope you will agree.
This also fits with the Euca philosophy of buying all raw materials and packaging locally, as we felt working with and creating a long-term partnership with Ross Cosmetics was the best way to obtain a sunscreen for our customers.
How to use / apply this sunscreen: The sunscreen should be applied at least 20 mins prior to sun exposure. For adults the minimum recommended application is 5mL [1 tsp] for each arm, leg, body front, body back and face.
This equates to 35ml [7 tsp] or a shot glass for a full body application. The sunscreen should be reapplied every two hours and more frequently if swimming, sweating, towel drying or participating in physical activity.
Auscreen Sunscreen is:
Non greasy or Tacky once applied
Long lasting - 4hrs
Water resistant
A non fabric stain formula
Value for performance
Does not contain Parabens, 4MBC [4 methylbenzylidene camphor], Octinoxate and Oxybenzone
What is SPF?
SPF or Sun Protection Factor is measure of how much UV gets through the sunscreen. The higher the factor the less UV passes through. SPF 50 sunscreen allows 1/50th (2%). This means that with a SPF 50, 98% is filtered.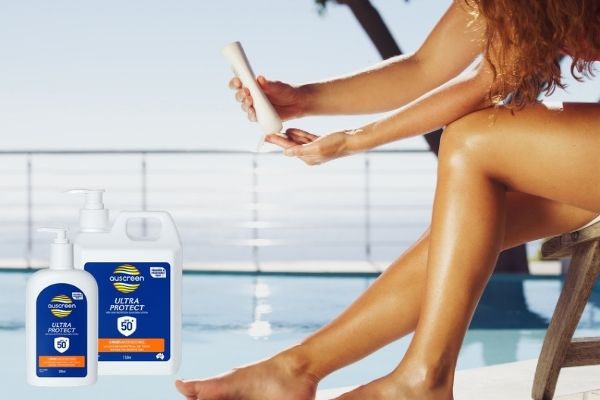 Sunscreen Common Myths
1/ If it's cold or cloudy outside you don't need sunscreen:
FALSE. 40% of the sun's rays reach the earth on completely cloudy days
2/ 80% of your sun exposure comes as a child, it's too late to do anything as an adult
FALSE. Multi-center study shows we get less than 25% of total sun exposure by the age of 18. Men over 40yrs spend the most time outdoors, plus life expectancy has increased leading to longer periods of exposure as adults
3/ People with olive skin are not at risk of skin cancer
FALSE. People who tan easily or are naturally dark skinned are still at risk of skin damage and skin cancer. Generally, when skin cancer does occur it is detected at a later, more dangerous stage
4/ You can't get burnt in a car or through a window
FALSE. Glass reduces but does not completely block UV radiation
Questions? Just ask:
Contact us here.
More Information

| | |
| --- | --- |
| Size | 500ml |
| Short Description | fragrance free and suitable for use on both your face and body |