For several thousands of years, the quandong fruit was a staple food for the Pitjantjara people (indigenous people of Australia).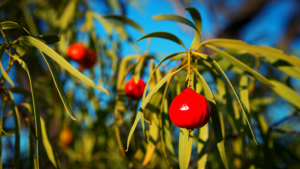 For several thousands of years, the quandong fruit was a staple food for the Pitjantjara people (indigenous people of Australia). The quandong (Santalum acuminatum) or 'native peach' is a glossy, bright and crimson coloured fruit that is also considered a wonderful substitute for meat. Traditionally, the leaves and bark of the quandong tree were used for ceremonial and medicinal purposes. Made up of 25% protein and 70% complex oils, the quandong kernels would also be used to create powerful antimicrobial and anti-inflammatory pastes. Which has now, become quandong soap.
To this day, the quandong is valued equally as a food and as a medicine in treating skin conditions and rheumatism. ­­­­­­With every part of the native fruit used to beat illness and provide vital nutrition, it will come as no surprise that quandong is becoming just as popular as an ingredient in skincare as it is in food. This large, tantalizing fruit is so loved by desert tribes that whether in season or not, it is hard to find a quandong tree that does not have a makeshift ladder propped up against it to aid fruit collection by adoring fans! Nowadays the quandong fruit is still used for its many health benefits especially under the beauty industry. Even though the fruit has been used for thousands of years, it is still relatively new to be used as part of a beauty regime. Often used as the main ingredient for (you guess it) quandong soaps, this amazing fruit proves that nature is always the best and the original beauty and health guru.
If you're not yet using quandong soap in your skincare routine, here are some reasons the native Australian superfood is an essential skincare ingredient.
Reason number 1: It's a potent antioxidant
When inflammation is triggered in the body, it can show up in your skin in the form of acne breakouts, redness or flakiness skin. If these sorts of inflammatory responses go unchecked, they can produce hormones and free radicals that can damage skin tissue.
Opting for botanical ingredients, like Quandong, is an effective and natural anti-inflammatory solution for stressed out skin. Quandong is also an ideal ingredient for sensitive skin types.
As a native fruit of the central and south Australian desert, quandong has acclimatised over thousands of years to protect itself against the harsh sun and extreme environmental conditions. When applied topically as a single-plant extract, it protects skin in precisely the same way as defending against the sun, pollution and preventing harmful toxins from entering the delicate dermal layer.
Natural actives:
Chlorogenic Acid, Tryptophan, Ferulic acid
Reason number 2: It hydrates skin
Quandong is jam-packed with alpha-amino acids that lock in the natural moisture to keep cells hydrated from within. When used in a serum form, the actives work in synergy with the skin's natural hydrating processes to leave a complexion bright, dewy and glowing.
Natural actives:
Tryptophan
Reason number 3: It repairs pigmentation and stops new pigment forming
Quandong inhibits melanogenesis (the formation of unwanted pigmentation) and provides a strong defense against free radicals and UV damage that cause sunspots and pigmentation. While pigmentation is often a harmless condition, prevention and cure are both possible with quandong to increase confidence and leave skin looking healthy.
Natural actives:
Ferulic acid, Rutin, Chlorogenic acid
Reason number 4: It helps you look younger
Containing twice the amount of natural vitamin C than an orange (second only to Kakadu plum in plant-based vitamin C content), quandong helps to stimulate collagen production to plump up the skin, reduce dark circles and soften fine lines.
It also protects against free radical damage that damages and dehydrates delicate skin cells to slow down the visible signs of ageing.
Natural actives:
Vitamin C Ferulic Acid, Rutin
Reason number 5: A shield against the elements
Along with vitamin C, vitamin E is an antioxidant on the front line when it comes to defending your skin from aggravators like pollution, stress, smoke and less-than-healthy foods.
Found in Quandong, this skin-saving vitamin forms a barrier around cells to keep them hydrated and healthy. Like rutin, vitamin E is also highly anti-inflammatory and relieves itchy, dry, red skin.
Quandongs are a rich source of Vitamin E, folate, magnesium and calcium. Vitamin E is a powerful nutrient which protects your skin by fighting free radicals, helping shield against the elements, reduces inflammation and provides excellent skin hydration.
Natural actives:
Vitamin E, folate, magnesium, calcium
Reason number 6: It works as an enzyme exfoliant
Quandong contains active phenolic acids, a more natural and gentler alternative to AHAs. With similar benefits to the popular skincare ingredient, the quandong works to break down the protein barrier to keep sebum and debris moving and skin cells clear. Phenolic acids reveal fresher, refined skin that appears brighter and over time, becomes firmer. The Quandong soap is also high in wrinkle-busting essential fatty acids for a smoother, plumper complexion.
Natural actives:
Phenolic acid
Reason number 7: It reduces redness caused by acne and inflammation
The phyto actives in quandong hold powerful anti-inflammatory properties which can reduce redness caused by acne and sensitised skin.
While we can't cure the root cause of acne, the anti-inflammatory properties will heal damaged skin cells to reduce redness, soothe irritated skin and build up the skin's protective barrier.
Natural actives:
Chlorogenic acid, Rutin, Ferulic acid
Conclusion
Contains twice the Vitamin C of an orange.
A wonderful source of Vitamin E, folate, magnesium and calcium.
A rich source of phenolic-based antioxidants which boost the immune system, reduce inflammation and protect against several diseases including cancer, cardiovascular disease and Alzheimer's disease.
The kernel contains a range of complex oils and is recognised for its anti-bacterial property and anti-inflammatory qualities.
Contains Rutin, a strong antioxidant that can reduce the proliferation of free radicals. Rutin works with Vitamin C to strengthen capillaries, reduce dark circles under the eyes and strengthen the skin from the effects of ageing.
A valuable vegan soap alternative.
Looking for natural soaps like quandong soap? Look no more! Euca has your back.
EUCA is proudly 100% Australian family owned business which offers 100% Australian made natural skin care and cleaning products. From our humble beginnings in a small factory in Williamstown, Melbourne, we have grown our brand with our loyal following thanks to our famous quality skin care and cleaning products.
Our products use locally sourced natural ingredients, like in this case the quandong plant. They are designed and tested as pure concentrates with no added fillers and were made to be biodegradable.
When you buy any of our products, you can guarantee that you're getting exceptional cleaning products that are 100% safe and healthy for your family and an equally exceptional customer service.
Visit us at Euca (www.eucaonline.com.au) and see the wonderful life of using eco-friendly and all natural products.