Commercial Grade Disinfectant Cleaner - Kills 99.9% Germs
Commercial Grade Disinfectant Cleaner - Kills 99.9% Germs
$7.26 - $112.97
As low as$7.26Regular Price$7.26
Kills 99.9% of germs and contains 3% Phenoxyethanol.
Delivery & Return

✔️ Contains 3% Phenoxyethanol, an effective Bacteriacide
Euca Disinfectant is a Commercial Grade Concentrate Cleaning Product made from 100% Australian Eucalyptus Oil, with no other artificial fragrances added. This powerful formula cleans as well as deodorises. Ideal for use in toilets, bathrooms, showers, rubbish bins, walls and floors. Can even be used in your laundry!
NOTE: We always recommend caution when in use around septic systems. Only use sparingly on surfaces that will wash into the system.
Suitable for use in food preparation areas.
Ideal for use in atomiser spray bottle for a natural Eucalyptus aroma.
Non-caustic and manufactured without bleach or ammonia – tested against; aureus (known as golden staph), Pseudomonas Aeurginosa (a frequent cause of pneumonia), Salmonella Enterica (causes diarrhoea, nausea & vomiting) and Enteroccus Hirae (causes fever, chills, headache and nausea)
Ingredients
Water, Eucalyptus Oil, Quaternary Ammonium Compound, Ethoxylated Alcohol (Surfactant) and Food Colouring.
Introducing the new 1lt Super Concentrate Range
How to use Euca Super Concentrated Products
USE OUR 500ML BOTTLES AND SPRAYERS AGAIN AND AGAIN. OR USE YOUR OWN SPRAYER YOU ALREADY HAVE AT HOME - IT'S EASY.
DIRECTIONS:
1. TO MAKE 500ML OF PRODUCT - FILL 300ML OF WATER IN YOUR EMPTY SPRAYER BOTTLE - ADD 200ML OF SUPER CONCENTRATE ON TOP. (we recommend adding the water first to stop any excess foaming when filling) if you have a different sized bottle you can guess by two thirds water (2/3) to one third (1/3) super concentrate .
2. THE 1 LT CHAMBER BOTTLE MEASURES 100ML OF SUPER CONCENTRATE AT A TIME . SO YOU NEED TWO MEASURES (200ML) TO ADD TO 300ML OF WATER. ALWAYS ADD WATER FIRST AS THE OPPOSITE WILL RESULT IN LOTS OF SOAP SUDS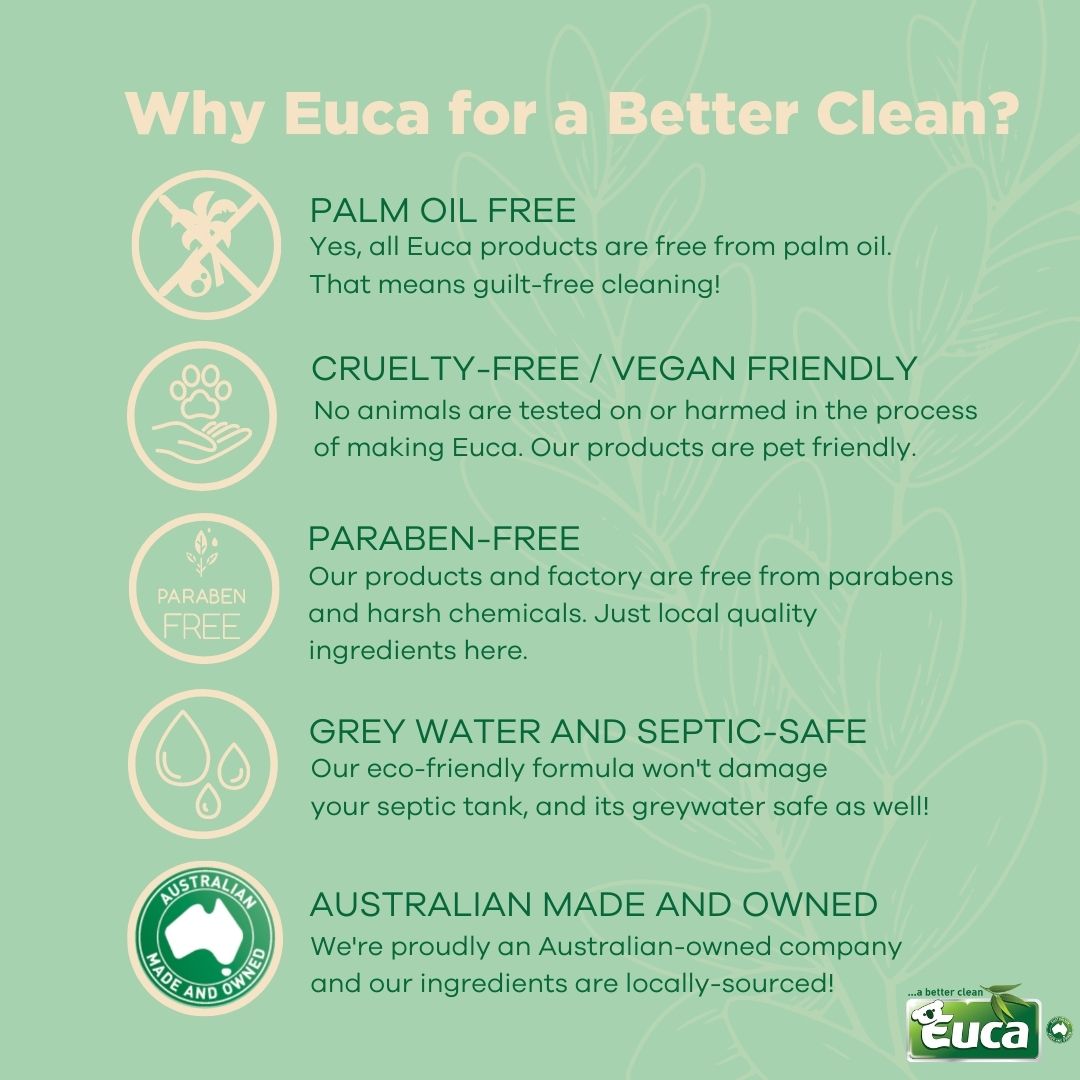 More Information

| | |
| --- | --- |
| Short Description | Kills 99.9% of germs and contains 3% Phenoxyethanol. |