Floor Cleaner - General Purpose Cleaner - Streak Free Finish
Floor Cleaner - General Purpose Cleaner - Streak Free Finish
$9.79 - $144.98
Natural Tea Tree & Lemon Myrtle that is tough on grease & grim
Delivery & Return
Introducing Euca's new eco-friendly floor cleaner. Our Euca floor cleaner has added anti-bacterial properties to help prevent the spread of cross infection, plus combined with the natural tea tree oil and lemon Myrtle oil, offers a powerful cleaning product that leaves behind a refreshing, but natural fragrance. This floor cleaner is a concentrated formula - which means you will use less.
Eucas floor cleaner is a pure concentrate - so use less , save money!
The benefits of Euca's new Floor Cleaner
✔️ Biodegradable
✔️ Tough on grease and grime
✔️ NEW formula, with added Phenoxyethanol, a known Bacteriacide.
✔️ Made with Natural Tea Tree Oil and Lemon Myrtle for powerful cleaning and a naturally refreshing fragrance
✔️ No added synthetic perfumes
✔️ Added rinse aid for spot-free drying
✔️ Ideal on all glass, metal surfaces and other hard surfaces
✔️ Can be used as a general all-purpose cleaner
✔️ Suitable for domestic, industrial and commercial use
✔️ Suitable for floors, walls and other surfaces (dilute and add to spray bottle for surface cleaning)
✔️ Deodorises and sanitises

No Animals are ever harmed in the process of making Euca Products– we love all animals big and small. Euca online cleaning and household products do not contain palm oil and are made in Melbourne.
This powerful eco cleaning product removes grease and grime easily, dries to a nonslip finish, and also leaves a lovely clear shine on surfaces. It is perfect for all hard floors and other surfaces, truly a hidden gem.
Directions for using Euca's Floor Cleaner:
Add 30ml per 8 to 10lt bucket
Wring a mop to avoid excess water
Change the water regularly for the best results
Let floors air dry for super perfect clear shine
Raw ingredients: This product contains Tetra Sodium Salt, SLES, Cocamide DEA, Alpha Olefin Sulphate, Tea tree and Lemon Myrtle Oil, Fragrance, food colour and water.



Euca is an Australia owned business, employing locals in our community to serve our valued customers. All of Euca's products are Australian Made and packed in Altona, Melbourne. Learn more about the benefits of supporting local Australian businesses in this blog here.
#buylocal
Suitable for septic, bio and greywater systems. Also safe to use in modern sewage treatment systems.
Disclaimer:
- Euca does not make any claim that our products specifically eliminate the current worldwide pandemic problem, but our articles and blogs do outline the best process for the removal of germs through thorough cleaning as well as disinfecting.
- Our Disinfectants and sanitiser have been independently tested to achieve the required elimination rate needed to be a superior product in the Australian market. Feel free to ask us for these reports.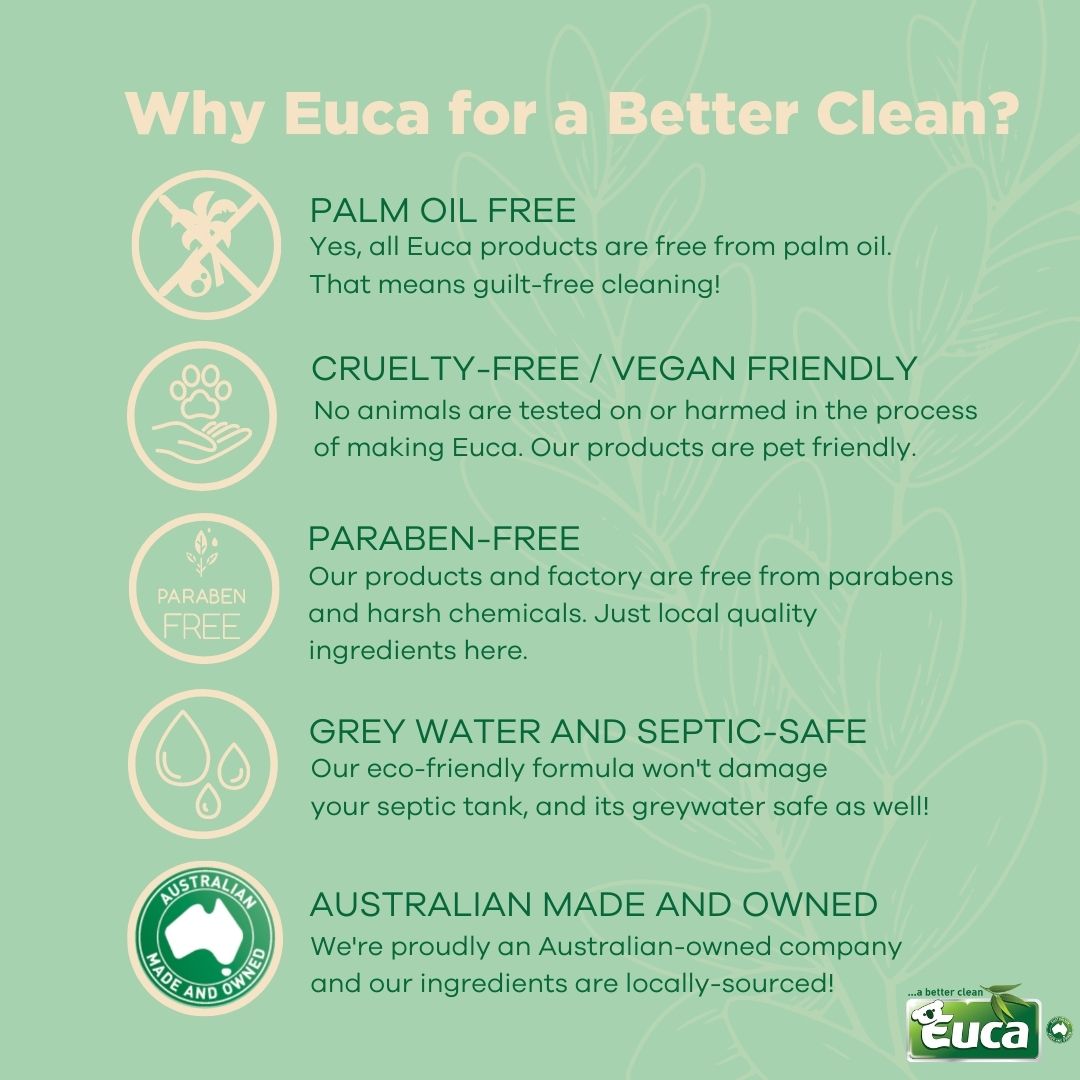 More Information

| | |
| --- | --- |
| Short Description | Natural Tea Tree & Lemon Myrtle that is tough on grease & grim |