Laundry Soaker Brightener
Laundry Soaker Brightener
$22.00 - $130.00
As low as$22.00Regular Price$22.00
Low allergenic for sensitive skin and helps clean and deodorise
Delivery & Return
Euca Soaker Laundry Brightener
Our Euca Laundry Soaker Brightener is an Australian made, high quality concentrate laundry soaker powder suitable for all fabrics, colours and stains. You can use this product as a pre-wash, as an overnight soaker or simply add it to your wash to bring back whites and make colours bolder and brighter.
Give your fabrics a boost without the use of harsh and harmful chlorines. Our Soaker is 100% soluble making it faster acting than other brands, giving you the best results with 100% active ingredients.
The natural Eucalyptus oil helps deodorise and sanitise without the need for synthetic perfumes, making it perfect for those will skin or bronchial sensitivities.
Euca Laundry Soaker Brightener can even remove stubborn stains on carpets, upholstery and work clothes.
Another major benefit is Euca's ability to clean and protect your washing machine at the same time you use it, making it smell fresh and last longer.
First time users should note, the eucalyptus dissipates during the wash, so all you have when dry is the smell of fresh linen. If you are after a subtle eucalyptus fragrance, we recommend adding our Euca Laundry Sanitiser or a dash of Euca Eucalyptus oil in the final rinse cycle. You can use any other preferred essential oil added as well to your taste.
Low suds blend
Unique soil release agents.
Low allergenic for those with sensitive skin.
Pre-wash stain remover
Ideal in Hot or Cold Water.
Add into normal wash for extra brightness for whites and colours.
Removes stubborn soils and stains.
Suitable for septic, bio and greywater systems. Safe to use in modern sewage treatment systems and traditional septic systems.
How much should I use?
For best results, add 20gm of Laundry Soaker Brightener to approx. 9L (in tub or bucket) of water and leave clothes/nappies to soak overnight.
As a Laundry Booster: Add about 10gm to your normal wash in the washing detergent drawer or directly into the tub.
As a Pre-Wash Stain Remover: Dilute / shake well, one teaspoon into a 500ml spray bottle of water and saturate the stain with the solution prior to washing clothes.
Ingredients: Sodium Carbonate, Sodium Percarbonate, Sodium Tripolyphosphate, Nonionic Surfactant and Eucalyptus Oil.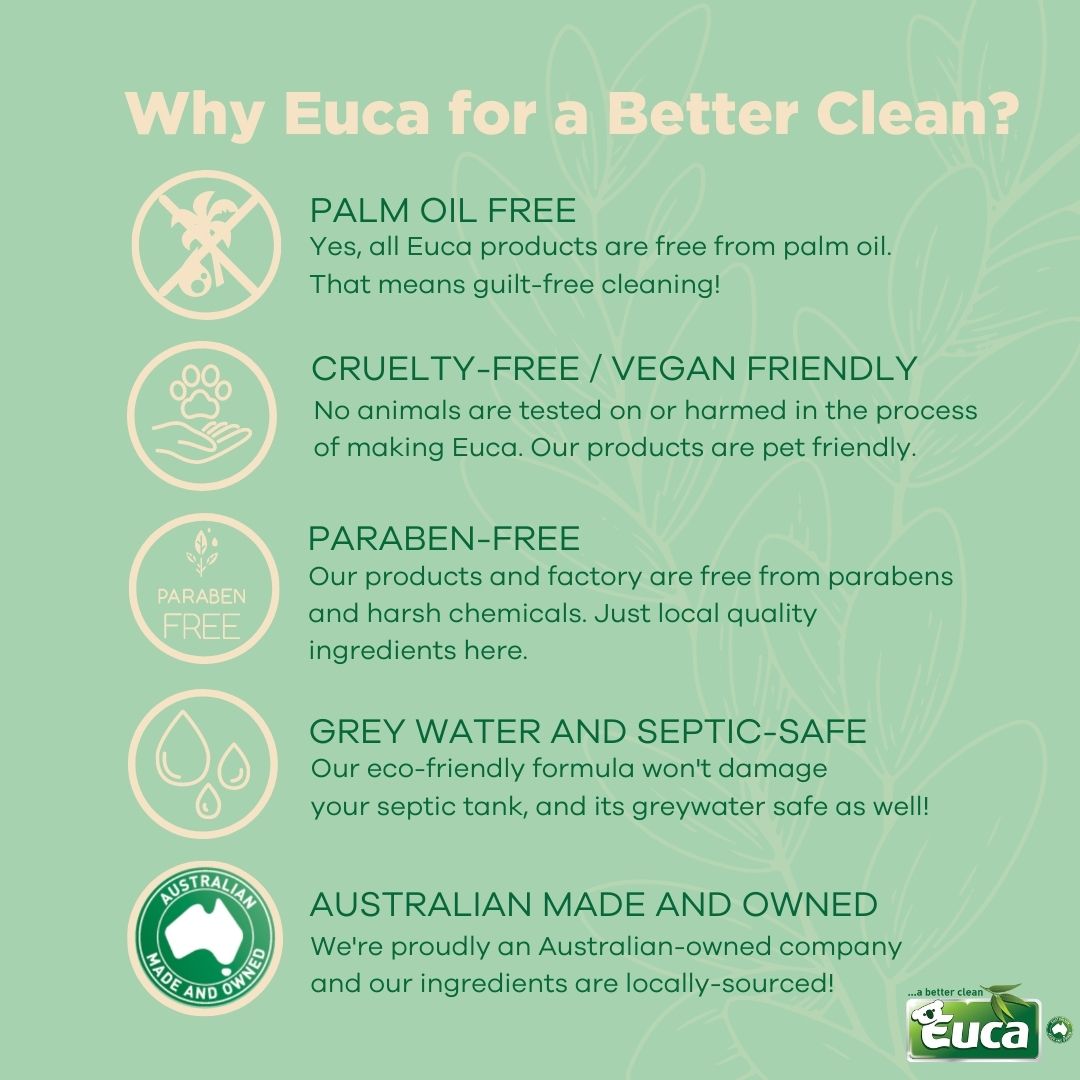 (Disclaimer: The number of washes is based on a Front Loader, to calculate the washes for a top loader you can halve or 3/4 the amount. Note all use is based on general soiling only. If washing heavily soiled loads, these will use more powder, also the opposite, if only general cleaning or small loads you can use less, meaning more washes than what we advise. If you have any questions feel free to chat to a Euca member for more detailed explanation.)
More Information

| | |
| --- | --- |
| Short Description | Low allergenic for sensitive skin and helps clean and deodorise |