Laundry Sanitiser Liquid
Laundry Sanitiser Liquid
$11.00 - $79.97
Laundry Sanitiser made with Broad Spectrum Bacteriacide.
Delivery & Return
Overnight, we were forced to change the way we live. We understand the need to avoid touching our face, to wash our hands frequently, clean , sanitise and disinfect – the same should be done for our laundry.
Euca have developed a new blend – Euca Laundry Sanitiser with Broad Spectrum Bacteriacide.
Did you know that germs can live on porous surfaces like clothing for hours?
That is why it is so important to ensure we wash our laundry with the right products. Euca Laundry Sanitiser with Broad Spectrum Bacteriacide was born to be added to the rinse cycle of any load, to disinfect and prevent cross infection prior to drying which goes a long way towards totally eliminating those germs and nasties. Also adds a slight hint of Eucalyptus to your dry clothes and washed items.
Euca Laundry Sanitiser with Broad Spectrum Bacteriacide is not made using any nastic, toxic products.
Contains effective Antibacterial properties.
Disinfects.
100% Australian Pure Eucalyptus
Australian Made and Owned.
Suitable for septic, bio and greywater systems. Safe to use in modern sewage treatment systems and traditional septic systems.
Disclaimer:
- Euca does not make any claim that our products specifically eliminate the current worldwide pandemic problem, but our articles and blogs do outline the best process for the removal of germs through thorough cleaning as well as disinfecting.
- Our Disinfectants and Laundry sanitiser have been independently tested to achieve the required elimination rate needed to be a superior product in the Australian market. Feel free to ask us for these reports.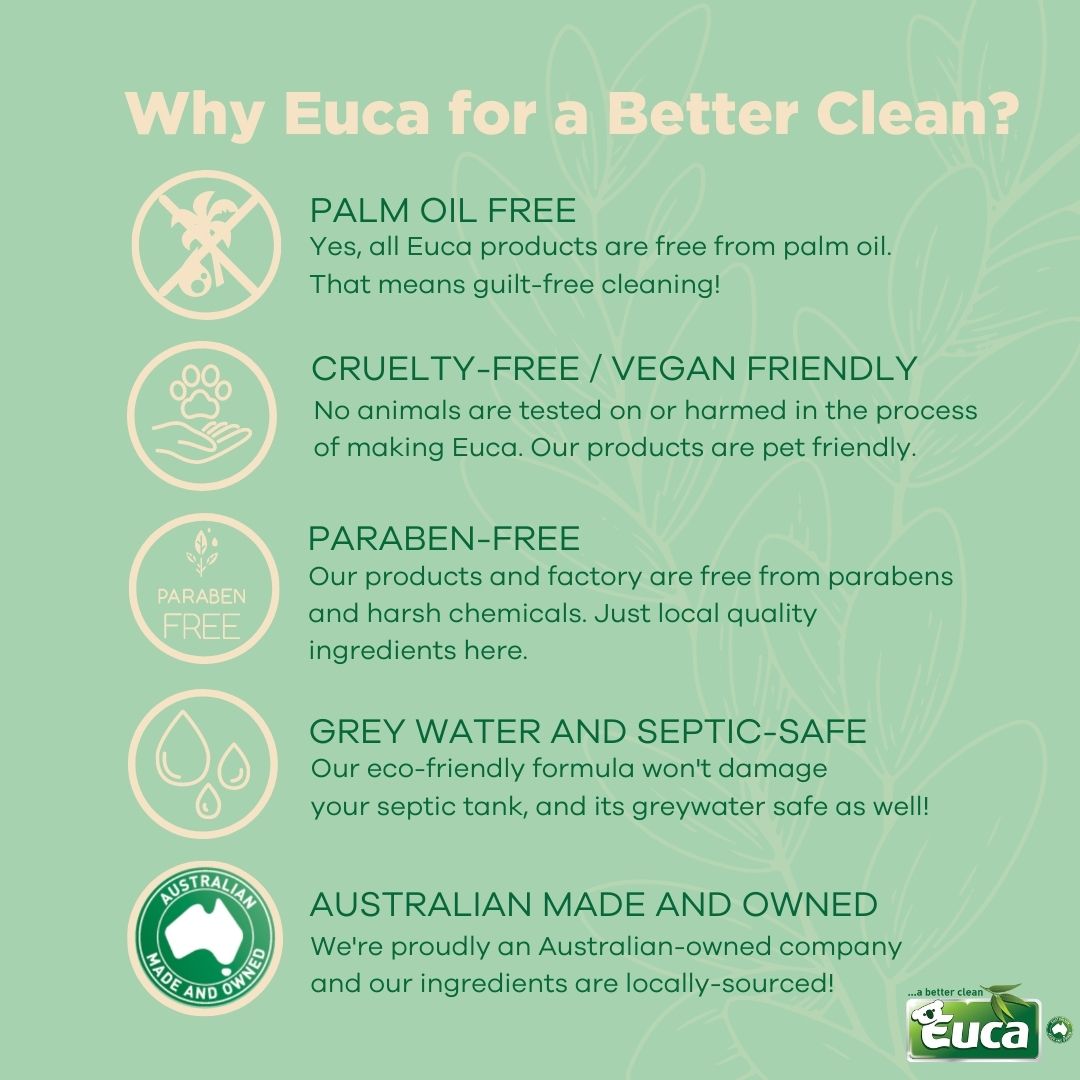 More Information

| | |
| --- | --- |
| Short Description | Laundry Sanitiser made with Broad Spectrum Bacteriacide. |