Laundry Sanitiser Liquid
Laundry Sanitiser Liquid
$9.96 - $82.01
Laundry Sanitiser with Broad Spectrum Bacteriacide
Delivery & Return
FREE SHIPPING OFFER:
This offer is not eligible with any other promotions or specials.
Can only be used ONCE per customer.
Can only be redeemed on ONE product offered in the promotion.
NOTE: You will NOT be able to purchase two or more products from this promotion and receive free shipping.
Literally overnight, we have been forced to change the way we live! We understand the need to avoid touching our face, to wash our hands frequently, clean, sanitise, disinfect – this is now the new normal. Even your laundry needs to adapt for this sudden need to eliminate all germs. So Euca have developed a new blend - the 1.5lt Euca Laundry Sanitiser with Broad Spectrum Bacteriacide .
Why should we use Laundry Sanitiser Liquid in our washing?
Did you know that your laundry could make you sick too? Since germs and all sorts of nasties can live for hours on porous surfaces like clothing, it poses the risk of spreading the to other laundry items. In addition, most microorganisms present in soiled laundry survive the normal wash cycle; hence hanging your washing on the line was one of the most important means to refresh and sterilise your clothes. But in todays fast and compact world we rely on airers and drying machines . So Euca Laundry Sanitiser with Broad Spectrum Bacteriacide was born, to add to the rinse cycle of any load, to disinfect and prevent cross infection prior to drying which goes a long way towards totally eliminating those germs and nasties. Also adds a slight hint of Eucalyptus to your dry clothes and washed items
Euca Laundry Sanitiser with Broad Spectrum Bacteriacide is made not using any nasty toxic products.
contains effective Antibacterial properties
Disinfects
100% Australian Pure Eucalyptus
Australian Made
Add that extra protection plus save yourself time and money, and save the planet at the same time.
Choose Euca for a better way to clean.
Euca is proudly Australian made, Australian owned and Australian operated. Our products are manufactured in Altona Melbourne from local raw materials and packed and shipped Australia wide.
Disclaimer:
- Euca does not make any claim that our products specifically eliminate the current worldwide pandemic problem, but our articles and blogs do outline the best process for the removal of germs through thorough cleaning as well as disinfecting.
- Our Disinfectants and Laundry sanitiser have been independently tested to achieve the required elimination rate needed to be a superior product in the Australian market. Feel free to ask us for these reports.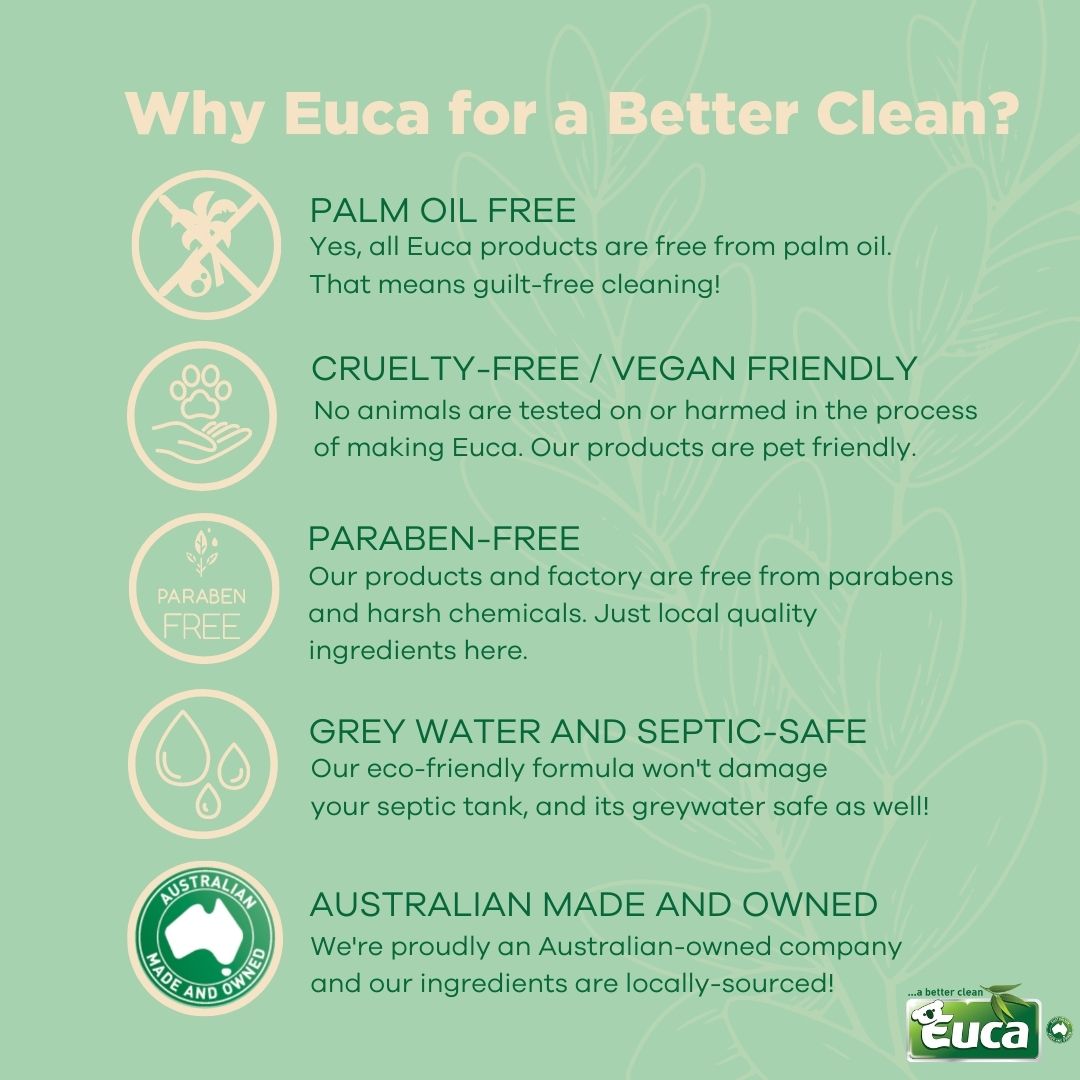 More Information

| | |
| --- | --- |
| Short Description | Laundry Sanitiser with Broad Spectrum Bacteriacide |