Multi Concentrate – Super Strong Multipurpose Cleaner
Multi Concentrate – Super Strong Multipurpose Cleaner
$22.00 - $159.50
Previously called TUFF, our concentrate is Tuff on Grease and Grime
Delivery & Return
Euca Multi Purpose Cleaner... CONCENTRATE
(see separate listing for our Ready To Use blend )
4Lt, 10Lt, 15lt & 20Lt
A new generation, environmentally friendly cleaning product that really cuts through grease and grime.
Euca Multi is made from Citrus and Eucalyptus and can be used in all parts of the house and workshop.
Euca Multi is the ultimate multi-purpose cleaner and won't affect your breathing and skin like other cleaners containing harsh chemicals and vapours.
Perfect for cleaning all surfaces!
Bio-degradable.
Non-flammable
Non-caustic, meaning it will not affect alloys, rubber, plastic and fabrics.
Dries leaving a non-slip surface.
Use on floors, walls, kitchen benches and even on surfaces in the laundry and bathroom.
Safe around animals making it safe to use around your furry friends.
Made without any nasty chemical like ammonia or chlorides.
Suitable for septic, bio and greywater systems. Also safe to use in modern sewage treatment systems.
How to use Euca Super Concentrated Products
USE OUR 500ML BOTTLES AND SPRAYERS AGAIN AND AGAIN. OR USE YOUR OWN SPRAYER YOU ALREADY HAVE AT HOME - IT'S EASY.
DIRECTIONS:
1. TO MAKE 500ML OF PRODUCT - FILL 300ML OF WATER IN YOUR EMPTY SPRAYER BOTTLE - ADD 200ML OF SUPER CONCENTRATE ON TOP. (we recommend adding the water first to stop any excess foaming when filling) if you have a different sized bottle you can guess by two thirds water (2/3) to one third (1/3) super concentrate .
2. THE 1 LT CHAMBER BOTTLE MEASURES 100ML OF SUPER CONCENTRATE AT A TIME . SO YOU NEED TWO MEASURES (200ML) TO ADD TO 300ML OF WATER. ALWAYS ADD WATER FIRST AS THE OPPOSITE WILL RESULT IN LOTS OF SOAP SUDS
The above measurements are a guide to using Multi Super Concentrate but the beauty with this product is that it can be diluted further or even less. Multi is a great product and after a few uses, you will be able to learn what dilution is necessary for your cleaning needs.
Ingredients:
Water, Disodium Trioxosilicate, Sodium Alkane Sulphonate, Ethoxylated Alcohol (nonionic), D-Limonene, Eucalyptus Oil and Red Food Colouring .
Disclaimer:
- Euca does not make any claim that our products specifically eliminate the current worldwide pandemic problem, but our articles and blogs do outline the best process for the removal of germs through thorough cleaning as well as disinfecting.
- Our Disinfectants and sanitiser have been independently tested to achieve the required elimination rate needed to be a superior product in the Australian market. Feel free to ask us for these reports.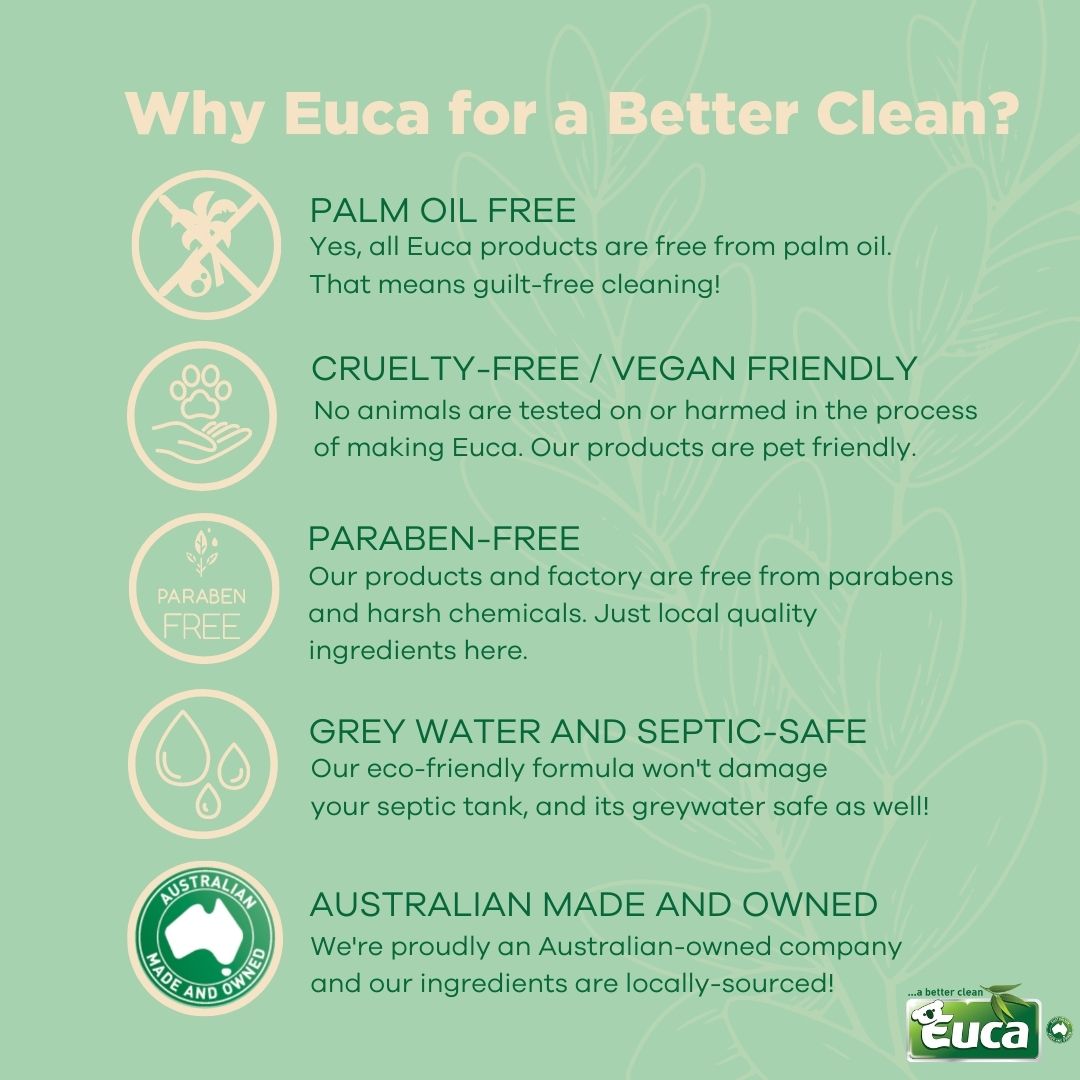 More Information

| | |
| --- | --- |
| Short Description | Previously called TUFF, our concentrate is Tuff on Grease and Grime |