Eco-Friendly Pre Wash Stain Remover
Eco-Friendly Pre Wash Stain Remover
$7.92 - $66.00
A blend made from Citrus and Eucalyptus. Gunk and grime come off quickly.
Delivery & Return
A new generation environmentally friendly natural cleaning product extremely effective in dissolving all kinds of soils, carbon, oils and greases. Made from Citrus and Eucalyptus, it is a blend free from any harsh chemicals.
Non-flammable
Biodegradable
Non-Caustic
Will not affect colours, patches, rubber or plastics.
Removes stubborn soils and stains.
NO Nasties
NO Fillers.
Suitable for septic, bio and greywater systems. Safe to use in modern sewage treatment systems and traditional septic systems.
This blend is safe on work logos, fluro gear, patches, rubber, and plastic. A light spray is all that is necessary on stains before popping them into the washing machine. For heavier stains, pour a small amount in a sink and soak for a short time before wash.
Introducing the new 1lt Super Concentrate Range
How to use Euca Super Concentrated Products
USE OUR 500ML BOTTLES AND SPRAYERS AGAIN AND AGAIN. OR USE YOUR OWN SPRAYER YOU ALREADY HAVE AT HOME - IT'S EASY.
DIRECTIONS:
1. TO MAKE 500ML OF PRODUCT - FILL 300ML OF WATER IN YOUR EMPTY SPRAYER BOTTLE - ADD 200ML OF SUPER CONCENTRATE ON TOP. (we recommend adding the water first to stop any excess foaming when filling) if you have a different sized bottle you can guess by two thirds water (2/3) to one third (1/3) super concentrate .
2. THE 1 LT CHAMBER BOTTLE MEASURES 100ML OF SUPER CONCENTRATE AT A TIME . SO YOU NEED TWO MEASURES (200ML) TO ADD TO 300ML OF WATER. ALWAYS ADD WATER FIRST AS THE OPPOSITE WILL RESULT IN LOTS OF SOAP SUDS
Ingredients
Disodium Trioxosilicate, Sodium Alkane Sulphonate, Ethoxylated Alcohol (Nonionic), Natural D-Limonene, Natural Eucalyptus Oil, Water. No colouring added.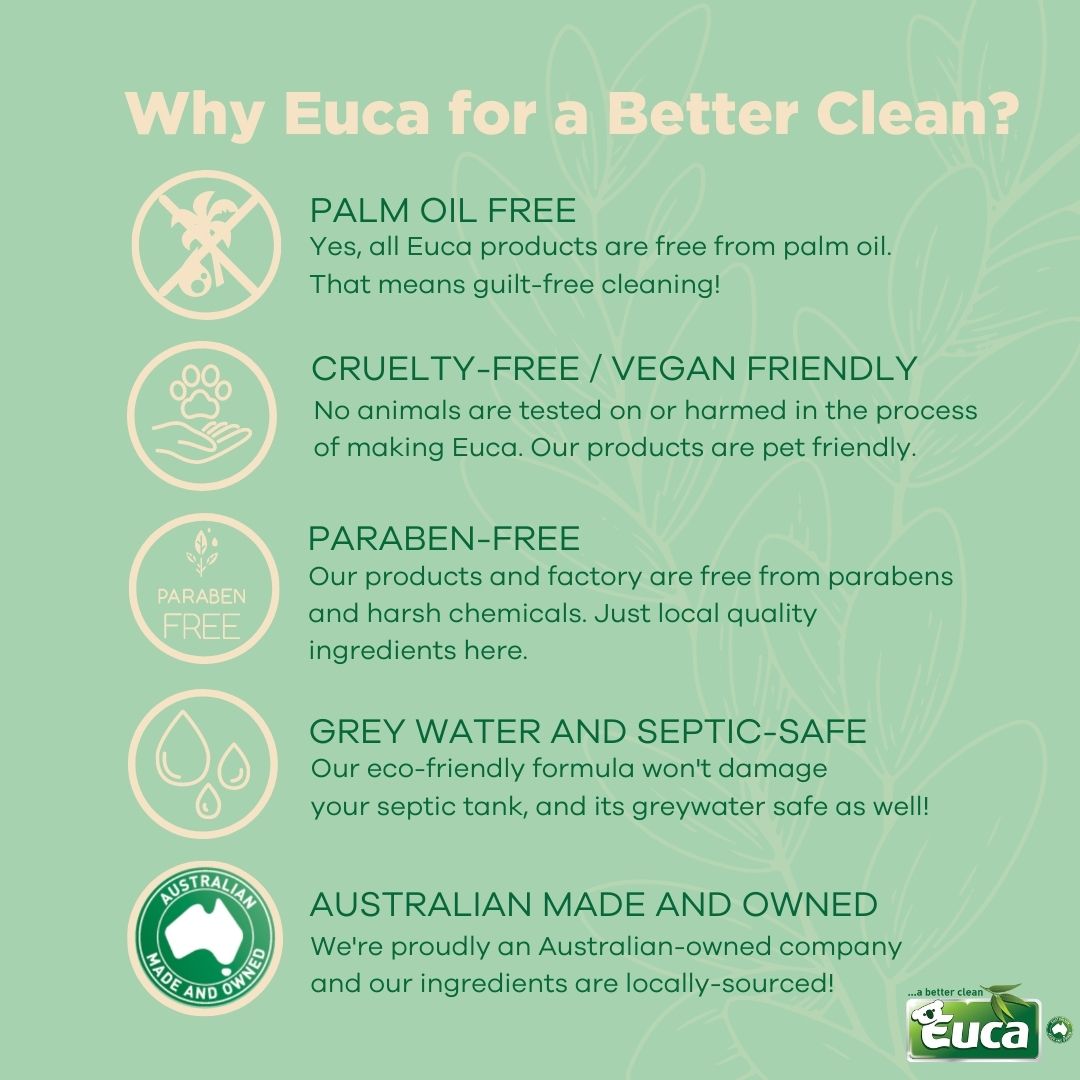 More Information

| | |
| --- | --- |
| Short Description | A blend made from Citrus and Eucalyptus. Gunk and grime come off quickly. |