Soft Wash Laundry Detergent Eucalyptus – woollens towels & delicates
Soft Wash Laundry Detergent Eucalyptus – woollens towels & delicates
$18.92 - $172.92
As low as$18.92Regular Price$18.92
All Natural soap blend Concentrate perfect for hand washing delicates
Delivery & Return
Euca Soft Wash - More than just a Wool Wash!
An Australian made, premium blend, natural soap-based concentrate laundry liquid. Was previously known as Wool Wash, but is so much more useful than just pigeon holing it for wool only.
Use Soft Wash as your secondary washing aid for all delicates, blankets, towels and doona's. The natural soap formula makes it perfect for hand washing and soaking as well as using in your machine.
Be sure to always follow the washing guides for the fabrics being cleaned.
Unlike other wool wash products, Euca Soft Wash doesn't strip lanolin from your woollens, destroying its water protection and ability to warm or cool. We made Soft Wash using Australian Eucalyptus oil and like other Euca products, it is also suitable for bio, septic and greywater system safe.
It takes couple of days to make a soft wash blend, it's a good old fashioned soap cleaner.
A low allergenic blend for those with sensitive skin makes it perfect for the whole family.
The blend is a true premium concentrate meaning you use less and save money.
Note its used neat so no need to dilute before use.
Another major benefit is Euca's ability to clean and protect your washing machine at the same time you use it, making it smell fresh and last longer.
First time users should note, the eucalyptus dissipates during the wash, so all you have when dry is the smell of fresh linen. If you are after a subtle eucalyptus fragrance, we recommend adding our Euca Laundry Sanitiser or a dash of Euca Eucalyptus oil in the final rinse cycle. You can use any other preferred essential oil added as well to your taste.
No added perfumes.
Perfect for hand washing delicates
Specifically made for woollens Blankets and Towels
All-Natural soap blend "Concentrate"
Sodium and Phosphate Free
Low allergenic
Ideal in warm or cold water
Top and Front-loading machines
Made with Pure Australian Eucalyptus Oil
Suitable for septic, bio and grey water systems
Ingredients: Water, Potassium Hydroxide, Oleic Acid, Coconut Fatty Acid, Alkylbenzene Sulphonic Acid.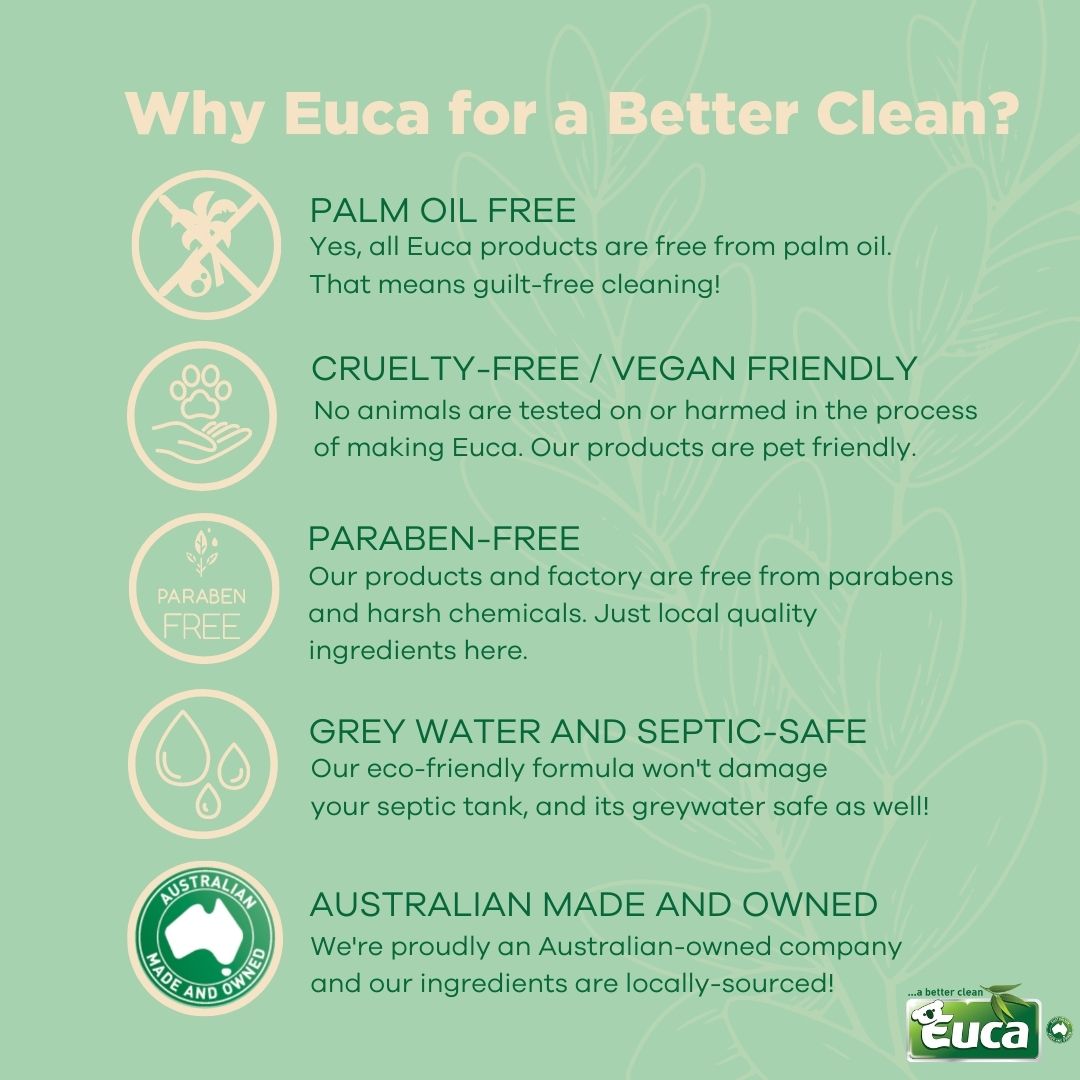 (Disclaimer: The number of washes is based on a Front Loader, to calculate the washes for a top loader you can halve or 3/4 the amount. Note all use is based on general soiling only. If washing heavily soiled loads, these will use more powder, also the opposite, if only general cleaning or small loads you can use less, meaning more washes than what we advise. If you have any questions feel free to chat to a Euca member for more detailed explanation.)
More Information

| | |
| --- | --- |
| Short Description | All Natural soap blend Concentrate perfect for hand washing delicates |