Super Concentrate Range - 1Lt
Super Concentrate Range - 1Lt
$22.99 - $23.00
Combat single-use plastics with our super concentrate
Delivery & Return
A new solution today, to help us all for a better tomorrow
Euca Super Concentrates 1.0 Litre Range
The team at Euca has been searching for ways to combat single-use plastics, and with the current global pandemic this has also highlighted our current reliance on imported "parts" that generally are also single-use, but can and should be re-used as many times as they allow us to. Our current 500ml trigger spray range was hit hard in this time, so we quickly introduced "re-use" your trigger sprayer by adding a 500ml refill bottle to our range.
We also have created our own "Forever Sprayer" being a commercial grade sprayer and bottle. see info on the CANYON trigger sprayer here - http://www.canyoneurope.com/products/
This lead to the idea of how we can reduce the use of 500ml bottles even more - so we took the water out of the Euca blends - to make them "Super Concentrated" - no easy feat as we still want the product to be stable and not separate. success , so we then created the new "SUPER CONCENTRATE" range . so you can refill our forever sprayer ( or your own sprayer) again and again .
We hope this new 1lt range changes how we all buy cleaning products, and you can tell us via feedback if and when we then turn this range into 10lt containers or 20lt container - ahh I hear you say , those damn plastic drums - well stay tuned as Euca has our next release to surprise you - wine cask style BAG in a BOX is coming for our Liquid ranges......
Introducing the new 1lt Super Concentrate Range
Refill your 500ml bottle a minimum of 5 times (dilution dependent).
Euca Euca Multi cleaner degreaser 1lt Super concentrate
Euca Commercial Grade disinfectant 1lt super concentrate
Euca Pre Wash Stain Remover 1lt super concentrate
Euca Euca Smell Expel Neutraliser Deodoriser disinfectant cleaner Herbal
Euca Glass & All Surface Spray 1lt Super concentrate
SAVE $ AS WELL AS REDUCE PLASTIC USE.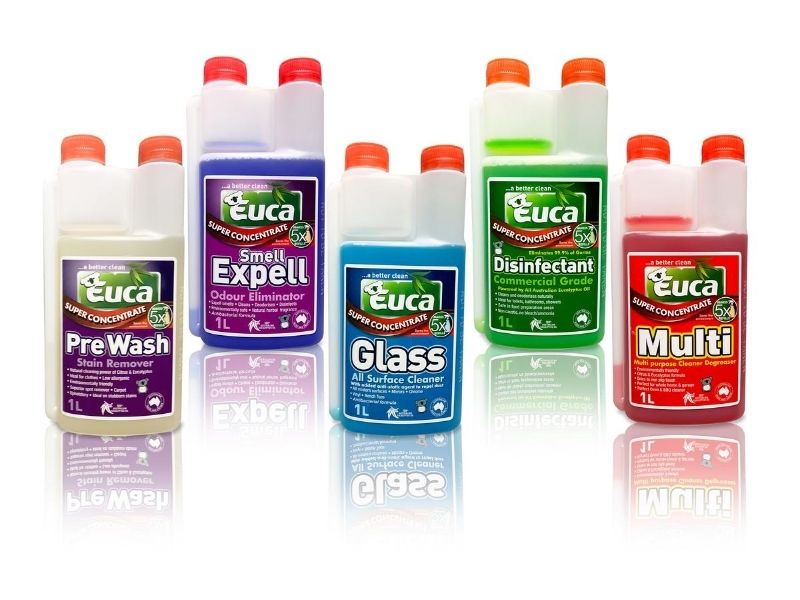 $23 FOR 5 X 500ML THAT USUALLY COSTS $8.60 ea - THAT'S A $20 SAVING TO YOU, REDUCED PLASTIC USE, LESS FREIGHT (LESS FUEL / POLLUTION) SO IT'S A WIN-WIN.

TRY OUR NEW "FOREVER" TRIGGER SPRAYER - MARKED FOR EASY FILL.
Learn more about our Forever spray bottles
here
.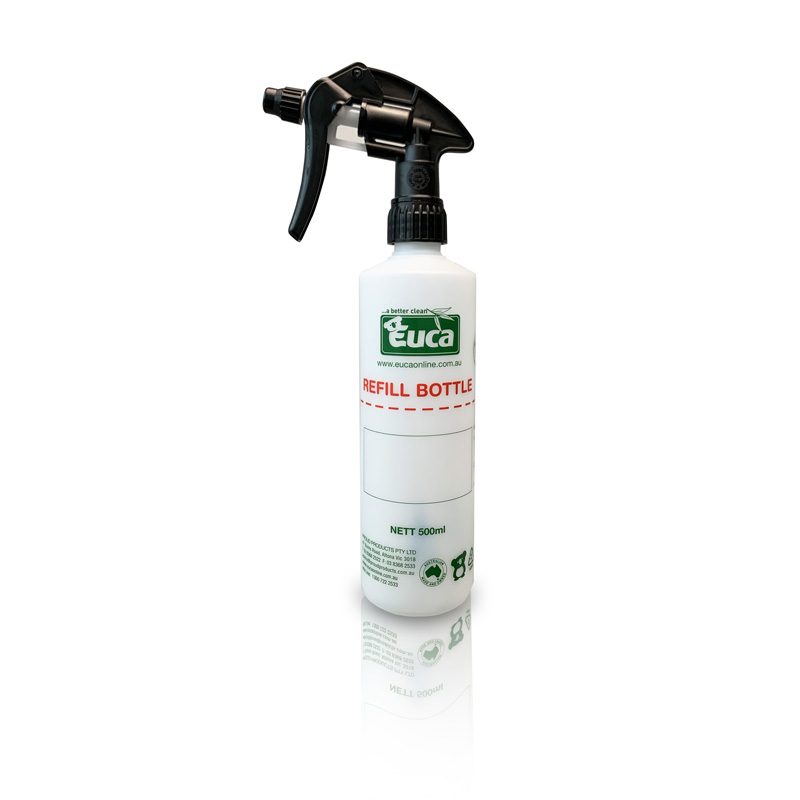 USE OUR 500ML BOTTLES AND SPRAYERS AGAIN AND AGAIN. OR USE YOUR OWN SPRAYER YOU ALREADY HAVE AT HOME - IT'S EASY.
DIRECTIONS:
1. TO MAKE 500ML OF PRODUCT - FILL 300ML OF WATER IN YOUR EMPTY SPRAYER BOTTLE - ADD 200ML OF SUPER CONCENTRATE ON TOP. (we recommend adding the water first to stop any excess foaming when filling) if you have a different sized bottle you can guess by two thirds water (2/3) to one third (1/3) super concentrate .
2. THE 1 LT CHAMBER BOTTLE MEASURES 100ML OF SUPER CONCENTRATE AT A TIME . SO YOU NEED TWO MEASURES (200ML) TO ADD TO 300ML OF WATER. ALWAYS ADD WATER FIRST AS THE OPPOSITE WILL RESULT IN LOTS OF SOAP SUDS.
Plastic is everywhere – from toys, packaging, home goods, utensils and more, it is undeniably a versatile material. It's a material that most of us use in and out of our household, every day, in some way, shape or form. Learn more about why recycling is more important than ever today
here
.
Interested in understanding which types of plastics are recyclable and which aren't? Check out our article on recycling codes
here
.


Euca is proudly Australian-made, Australian-owned and Australian operated. Our products are manufactured in Altona Melbourne from local raw materials and packed and shipped Australia-wide.
Euca products do not contain palm oil and are never tested on animals - we love all creatures big and small.
Disclaimer:
- Euca does not make any claim that our products specifically eliminate the current worldwide pandemic problem, but our articles and blogs do outline the best process for the removal of germs through thorough cleaning as well as disinfecting.
- Our Disinfectants and sanitiser have been independently tested to achieve the required elimination rate needed to be a superior product in the Australian market. Feel free to ask us for these reports.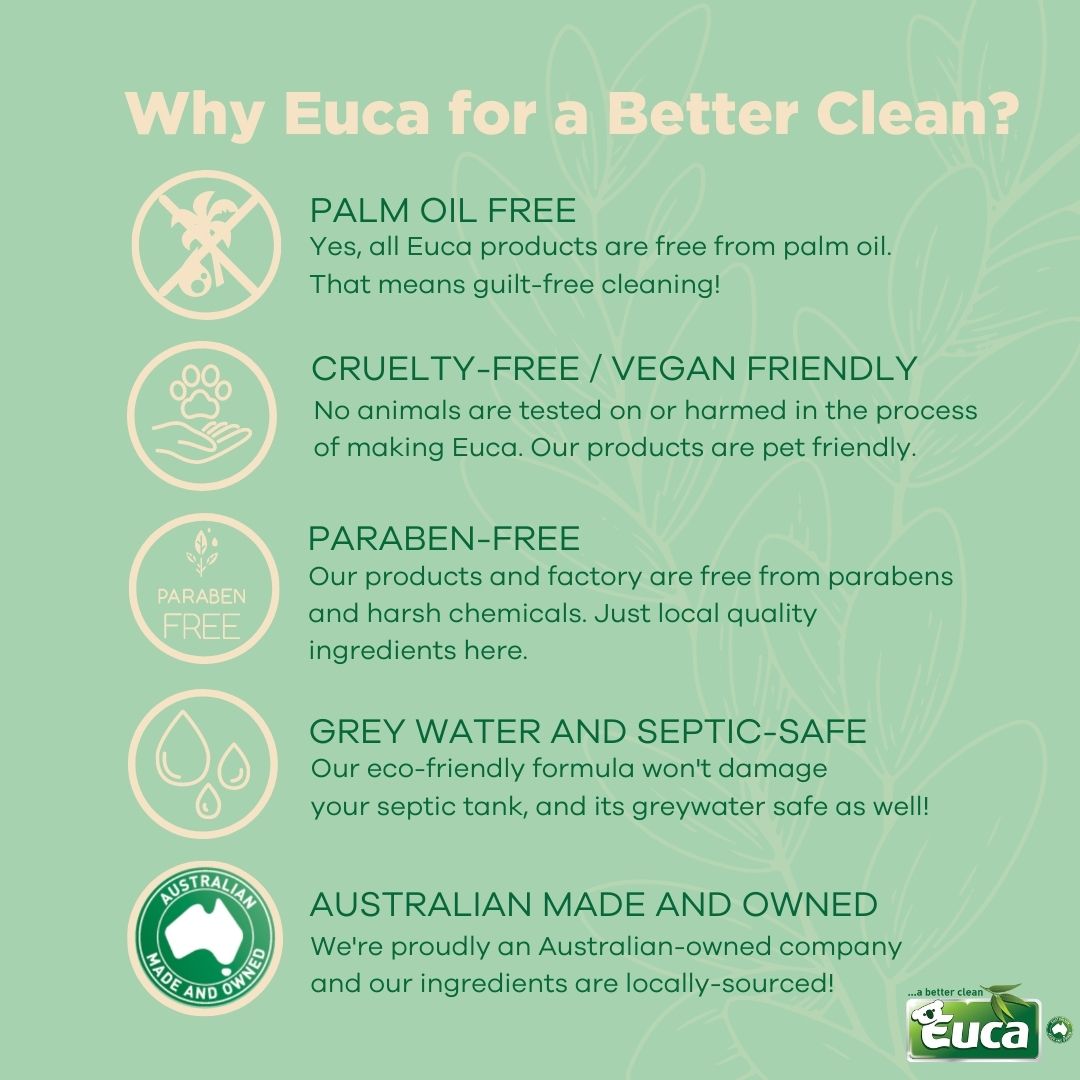 More Information

| | |
| --- | --- |
| Short Description | Combat single-use plastics with our super concentrate |