Jasmine is a treasured plant boasting with benefits, which is why we chose to use it in our new, Limited Edition Laundry Range! Derived from the white flowers of the Jasmine plant and known for it's romantic, sweet fragrance. It's more a question of why wouldn't we use it, than why did we?
But there's a lot more to uncover with this incredible plant than just it's beautiful fragrance, find out more here.
Jasmine from Around the World
The magnificent flowering plant that is Jasmine has been making waves around the world. It grows widely through most parts of Eurasia, Australasia, and Oceania. Its immense global presence has given rise to its numerous uses and benefits.
For example, in China, Jasmine is turned into a refreshing drink, specifically, tea. The aroma of the flower is blended with oolong tea and the natural Jasmine oil is added to enhance flavour and aroma.
Meanwhile, in India, the flower mostly serves aesthetic purposes. Fresh Jasmine flowers are woven into headdresses and garlands. These are often done for weddings or solemn events.
We head westward to the Syrian gardens, as Jasmine here has been long cultivated. The capital city of Damascus is known as 'Jasmine City', and the flower is entrenched to its national cultural identity.
Just like in India, Jasmine in Hawaii is also cultivated and is mostly designed as garlands presented during special occasions. The cultural linkage of Jasmine is also deep within the country, as it is mostly featured in popular indigenous folktales and songs.
How Jasmine is Grown and Cultivated
There are numerous ways Jasmine is grown and cultivated around the world. But the process mostly involves these steps.
The Jasmine buds are harvested first thing in the morning. It needs to be done early because insects like bees can feast on them later in the day. The selection process then begins, where the buds are determined by size. The larger, purer white flowers which give off the best scents are chosen in favor of smaller ones.
The more complicated part comes in extraction. Extracting its precious oil requires an intensive procedure. First, the oil is coaxed from the petals through an alcohol-soluble solvent, done in a slowly rotating cylindrical drum. Evaporation is done next to ensure only the Jasmine oil is left behind. It is now called the Jasmine absolute - a delicate oil only fit for expensive, high-end perfumes. It is also mixed with other compounds while trying to maintain its original Jasmine scent identity.
The Benefits of Jasmine
Jasmine also has number of potential health benefits. Here are some of them.
Jasmine can help reduce risks of liver damage from cirrhosis and can eliminate abdominal pain and diarrhoea. Its sweet scent can be used as a natural sedative like its fellow scent-inducing flower lavender. The aroma can calm down anxiety and can help to reset the body.
Jasmine is also an aphrodisiac, which is why it's a common agent in massage oils and perfumes. Not only does Jasmine have potential health benefits, the Jasmine scent is also a staple for most drinks, pastries, and similar desserts.
Did we forget to mention that Jasmine is now a Laundry product ingredient? Our team have been working hard to bring you this Limited Edition Jasmine Laundry Range boasting with beautiful aromas. Here is our range!
Euca Jasmine Laundry Powder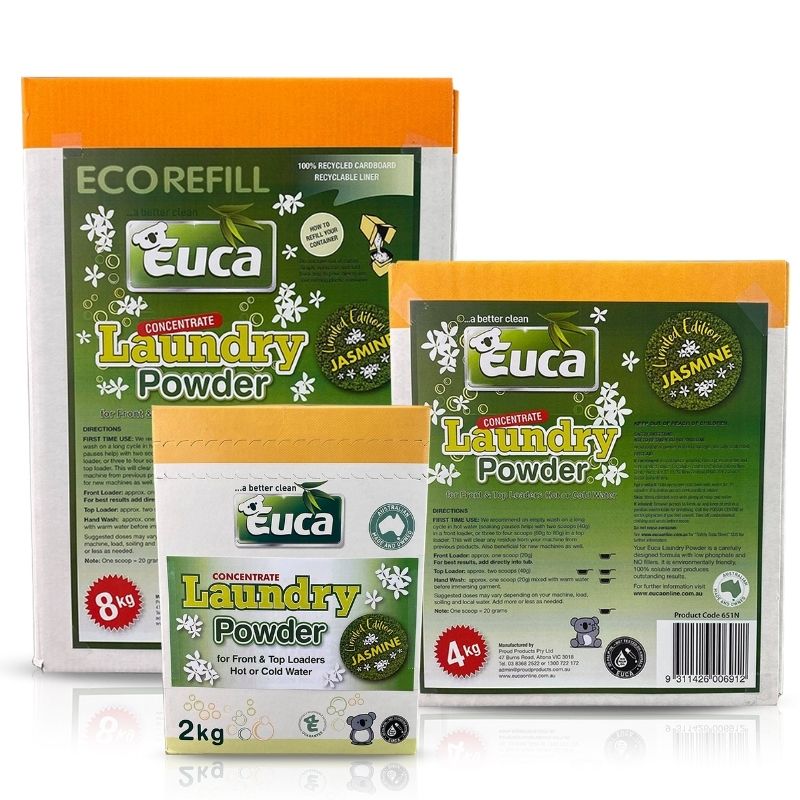 Euca Jasmine Laundry Liquid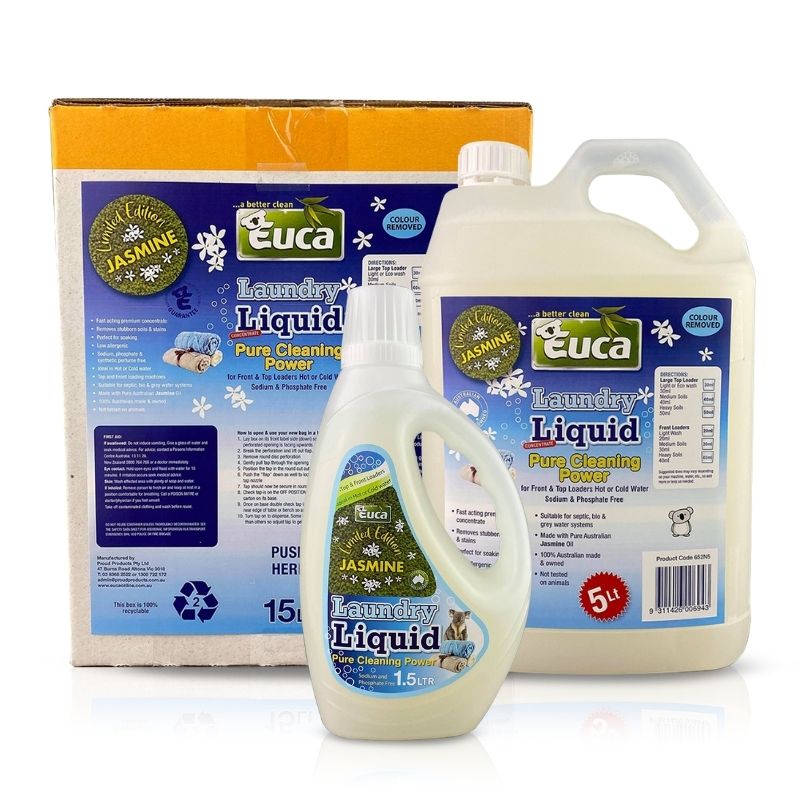 Euca Jasmine Soft Wash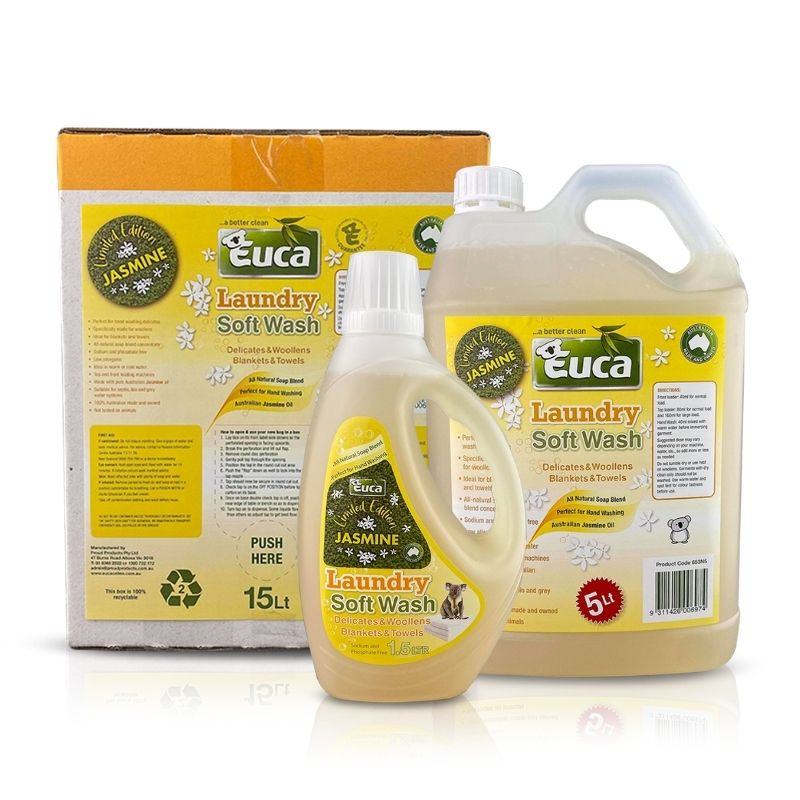 Euca Jasmine Fabo Laundry Fabric Softener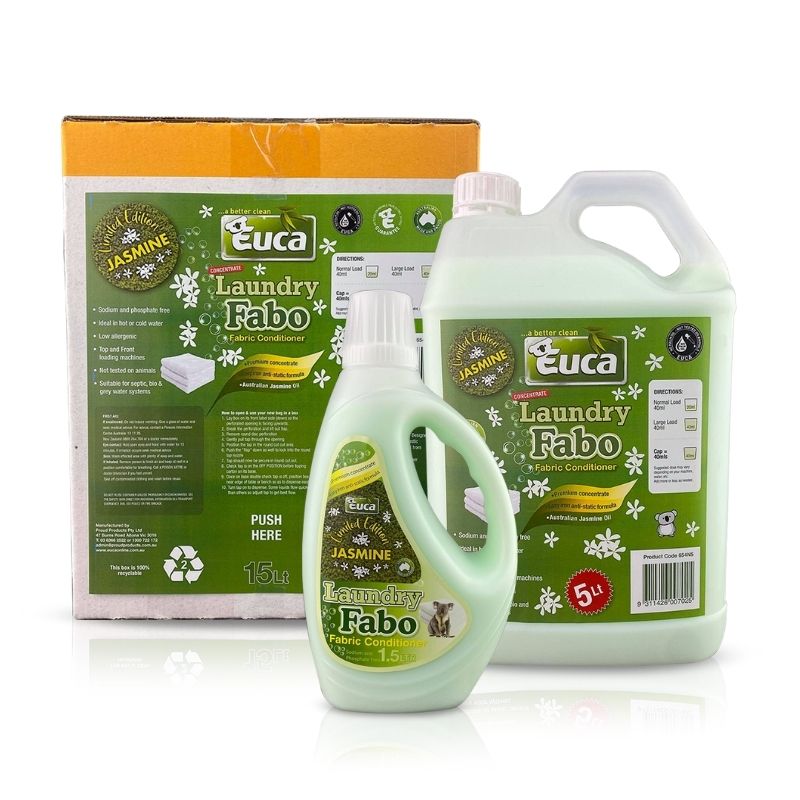 Find the full range here.
Perfect time to stock up now with the season of Spring around the corner.
Visit our site before they sell out!