Outdoor Starter Kit
Outdoor Starter Kit
Delivery & Return
There has never been a better time to get your hands on Euca's new Outdoor Cleaning Range.
With the weather warming up and sun shining, getting outdoors and enjoying time with friends and family has never been more important. Luckily, Euca have released an Outdoor Range to help you ensure your outdoor entertaining areas are immaculate and ready to go for all the fun times ahead.
Why not get started with the Outdoor Cleaning Starter Kit?
This Outdoor Cleaning Kit has everything you need, including:
5ltr Deck, Wall & Window Cleaner
500ml Furniture Rejuvenator
250ml Hand Cleaner Citrus Jell Scrub
This kit will have all of your surfaces sparkling and looking fresh - effortlessly!
Go on, get your alfresco areas clean and start enjoying the sun with some loved ones!
The Euca Outdoor Deck, Wall & Window Cleaner cuts through the layers of built up dirt and grime, easily removing all soils while adding a protective layer to keep your areas looking cleaner for longer.
Made for use with all pressure washers (with a liquid / detergent dispenser system)
Perfect for hard to reach windows, eaves and even on roller doors where you need to really get in and remove road grime.
Outdoor furniture looking not so perfect anymore?
This product is for you! The Outdoor Furniture Rejuvenator & Cleaner is perfect for when your plastic, metal, wooden and vinyl furniture and exterior items are looking a little tired and weathered.
A quick spray and wipe will bring your outdoor furtniture back to life again.
With a non-oily, yet glossy finish, it is designed to penetrate and protect against UV light and add a lustrous sheen finish.
The Outdoor Furniture Rejuvenator & Cleaner can be used on painted surfaces, alloy and stainless steel, will not cause rust as it usually protects.
Just apply, wipe and forget!
Watch the dirt fall away, then rinse and let dry. Who doesn't love easy cleaning?
For built up, heavy soiled areas, you can help the process along by scrubbing with a broom or mop.
The Euca Outdoor Eco Hand Cleaner Citrus Jell Scrub is a unique blended hand cleaner, formulated to eb kind to you and the environment, while doing its job cleaning off those tough and grimy soils.
Perfect for removing those hard to remove kitchen oils, dirt from gardening and workshop grease.
Made with pure citrus oils and Natural Clay Silicate scourers to clean naturally unlike any other hand cleaners in the market today. With added moisturisers, it will leave your skin feeling fresh after every use.
We DON'T use solvents or poly beads which are harmful to the eco system.
Can be used in pumps or applied directly.
Choose Euca for a better clean.
Suitable for septic, bio and greywater systems. Also safe to use in modern sewage treatment systems.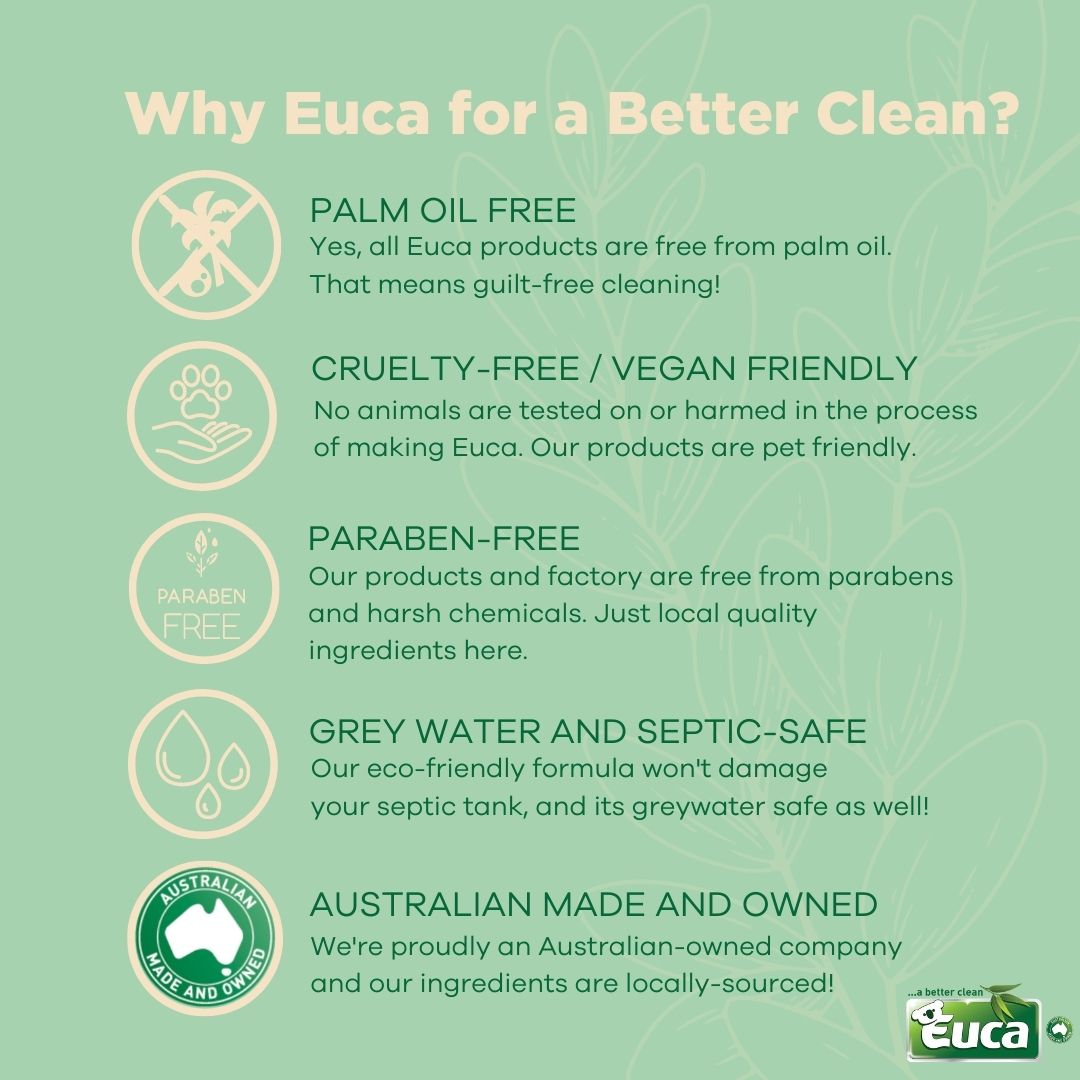 More Information

| | |
| --- | --- |
| Double Points | double points |
| Size | 1.5kg |